Transformers 5 Is Happening, But You'll Have To Wait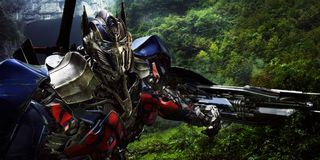 Hasbro and Paramount Pictures are not ready to give up on Transformers, and Age of Extinction will not prove to be the final movie in the series. But while we already knew that Transformers 5 and more live-action sequels are in the works, when are they coming? Who's working on them? During their 2015 Q1 Earnings Conference Call, Hasbro answered a few of these questions for the public – including the fact that the next movie won't be coming out until 2017.
According to TFW2005.com, Hasbro CEO Brian Goldner revealed that the toy brand and Paramount are planning a release year for Transformers 5. This is contradictory to a previous report, which came out of last year's CineEurope. At that time, Paramount slated the next sequel in the blockbuster franchise for 2016. However, producer Lorenzo di Bonaventura later said that this information was inaccurate, which led some to believe that this project was farther off than we thought. Now, though, Goldner says that the team is actively working on Transformers 5 for 2017 and building a new cinematic universe. Akiva Goldsman has been brought on to lead a group of writers in forming a strategy around the property moving forward.
Given the poor display of Transformers: Age of Extinction, this might not be the best news. Michael Bay has been the driver of the Transformers movie series since the beginning, but the most recent sequel was one of the weaker installments so far (Mark Wahlberg's performance didn't do the movie any favors). Bay, for one, likely won't return for Transformers 5, as he said previously that he has other projects he wants to focus on. However, that doesn't mean Wahlberg is entirely out of the picture. With Shia LaBeouf retired from the franchise, Age of Extinction saw the Pain & Gain star enter the fray as tinkering mechanic Cade Yeager, while Bates Motel star Nicola Peltz portrayed his daughter and Jack Reynor played her adrenaline junkie boyfriend. All three were pegged as the new faces of the franchise, but will Paramount and Hasbro go in a different direction for the films moving forward after spending so much time and effort in introducing audiences to these new characters? At this point, it's unclear.
Understandably, very little is known about Transformers 5 and the cinematic universe moving ahead. We barely have a solid release date other than the broad and seemingly loose 2017 premiere year. If Bay holds true to his promise, than that means they need to start looking soon for someone to replace him, and the treatment Goldsman and his team are crafting is the first step in convincing someone to take the helm. We'll keep on alert for new information on Transformers 5, but for now, hold tight.
Your Daily Blend of Entertainment News
Thank you for signing up to CinemaBlend. You will receive a verification email shortly.
There was a problem. Please refresh the page and try again.