Michael Bay Forgives Shia LaBeouf And Reveals Dildo Thefts On The Pain & Gain Set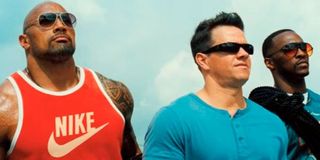 Michael Bay's name is synonymous with big, brash blockbusters full of explosions and over-the-top special effects. But costing just $25 million to produce, his latest, Pain & Gain, was practically low budget by Bay standards. This comedic retelling of the heinous crimes of the Sun Gym gang, who kidnapped, tortured, and murdered in their insane extortion schemes, isn't short on Bay's trademark bravado, but it did force Bay to pay close attention to costs. Which is how he discovered there were thieves in his midst.
In an interview with The Daily Beast, Bay revealed some of the film's more shocking setting dressing went missing as shooting progressed. In the movie, Mark Wahlberg, Dwayne Johnson, and Anthony Mackie's pumped-up protagonists hold their wealthy hostage in a warehouse stuffed with sex toys. And Bay admits the most outrageous thing that happened on the Pain & Gain set was that the cast and crew proved to have sticky fingers, walking off with these salacious props.
First off, of course Bay uses the word "vajayjays." Secondly, I wish he had filmed the crew's reactions so it could be included on the film's eventual Blu-ray release. Third, I'm assuming the butt that everyone couldn't stop groping because of its realistic feel is the same on the Rock memorably spanks in the warehouse's introduction. And finally, we're sad that Bay won't reveal just how many sex toys went missing, or how much they wound up costing the production.
The whole interview is definitely worth a read, as Bay discusses his notoriety among film critics as well as his life-changing experience interning on Raiders of the Lost Ark. But Transformer fans might be especially interested about why Shia LaBeouf won't be in Transformers 4. As his recent casting of Megan Fox on Ninja Turtles suggests, Bay is not one to hold a grudge, even if you talk trash on his movies that made you a star:
Mark Wahlberg accepted the lead in Transformers 4 after his Pain & Gain co-star Johnson passed over scheduling conflicts.
Your Daily Blend of Entertainment News
Staff writer at CinemaBlend.
Your Daily Blend of Entertainment News
Thank you for signing up to CinemaBlend. You will receive a verification email shortly.
There was a problem. Please refresh the page and try again.