Michael Bay And John Krasinski Might Make This Haunting Movie Together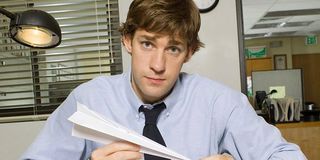 Michael Bay has kissed goodbye to Optimus Prime, Bumblebee and Megatron and the rest of the kooky robot characters that inhabit the Transformers franchise, and that has left him on the hunt for a new film to sink his teeth into. Now it looks as though he might have found it in the shape of 13 Hours - but that's not all! He's even reportedly found his new leading man in the shape of John Krasinski.
Variety has been informed by its sources that John Krasinski is being actively pursued by Paramount to star in 13 Hours, which Michael Bay is already attached to direct. The film will recount the attack on the U.S. Special Mission Compound as well as a CIA Annex in its vicinity in Benghazi, Libya. Both of these tragedies occurred on the eleventh anniversary of September 11th in 2012. Michael Bay, alongside his creative cohorts for 13 Hours, have earmarked John Krasinski for one of the leading roles in the thriller. The plan is to have the actor portray a Navy SEAL.
Michael Bay was reportedly hugely impressed with John Krasinski during an early casting meeting that they had about the project - which is hardly a surprise. The former star of The Office - who has also appeared in big screen projects like Away We Go and Leatherheads - has always come across as a genial and intelligent soul sort in performances and interviews. But he's not the only actor who has been in negotiations with Michael Bay regarding a role in 13 Hours. In fact the Transformers, Bad Boys and Pain & Gain director has been meeting with a whole host of recognizable faces, each of whom have been in stellar on-screen form over the last few years.
First up is Woody Harrelson, who after receiving an Academy Award nomination for the cruelly underrated The Messenger back in 2009 has only built upon his impressive resume. His appearances in Out Of The Furnace, Seven Psychopaths, Game Change and True Detective in recent years have proven that he is more than either a comedic sidekick or bit-part in an ensemble. Meanwhile, J.K. Simmons has also allegedly been in discussions with Michael Bay about being cast in 13 Hours. Simmons has always been a tour-de-force when on-screen, but with last year's Whiplash he even somehow managed to out-shine his previous efforts with a performance of such intense panache that he picked up the Golden Globe for Best Supporting Actor on Sunday. And if he doesn't win the Oscar then the vote has clearly been rigged.
Meanwhile Shea Whigham is also in talks with Paramount for a possible role in the project. HBO viewers will know Whigham as the man who helped to turn the originally weak and clichéd Eli Thompson on Boardwalk Empire into a fully rounded and truly intriguing character, but he's also sublimely popped up in films like American Hustle, Silver Linings Playbook and The Wolf of Wall Street. The last actor rumored to being linked to 13 Hours is Walton Goggins,whose charismatic face and unique acting energy have helped to single him out in every performance.
There's a great deal of talent in that list, but apparently it's John Krasinski who being set up to be Michael Bay's leading man in 13 Hours. And even though it's currently hard to picture John Krasinski as an action star, just remember that's how most people felt about Chris Pratt ahead of Guardians Of The Galaxy, and that turned out quite all right. Let's just hope that while filming 13 Hours Michael Bay isn't quite as Michael Bay as he's been in recent films though. Because if he is, then even if John Krasinski puts in the performance of his life it will be lost in an explosive, loud haze of shit.
Your Daily Blend of Entertainment News
Thank you for signing up to CinemaBlend. You will receive a verification email shortly.
There was a problem. Please refresh the page and try again.