Why JK Simmons Needs To Win Every Award This Year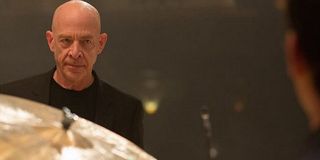 The decision to award JK Simmons the Golden Globe for Best Supporting Actor after his work in Whiplash was probably the easiest selection that the Hollywood Foreign Press Association made all evening. And, if there is any justice in the world, it will be the first of many best supporting actor gongs that the actor picks up over the coming weeks in the build up to the Oscars.
In Whiplash, JK Simmons played Terence Fletcher, the intense, abrasive teacher to Miles Teller's young drummer, Andrew Neiman. And while there's no denying the fact that Miles Teller excelled as the naïve but impassioned Neiman, it was JK Simmons who received most of the plaudits from critics and moviegoers. I have to admit that a small part of me believes that Miles Teller deserves more acclaim for his sterling efforts in Whiplash. He perfectly portrayed Andrew Neiman to make him constantly intriguing while also showing him to be arrogant, naïve and driven in equal measure too. However the character of Terence Fletcher allowed JK Simmons to truly go off the rails. Not only did he repeatedly erupt in furious anger at his students, but he did so in an amusing yet precise manner that showed just how intelligent and calculated the character was.
However there was still a valid reason for Terence Fletcher's vitriol. In the end, he not only truly cares about his students, but he is also looking to get the best out of them too. Plus he adores his position as a teacher and has immense respect for the role. JK Simmons knows all of that, and he anchors his performance with these facts to truly evolve the character into a relatable yet horribly intimidating figure.
There's another reason why JK Simmons deserves all of the acclaim that is currently coming his way. He could easily have gone over the top with it. Terence Fletcher is a larger than life character that could have come across as unrealistic if he'd not been portrayed properly. If that had been the case, we wouldn't have been able to resonate with him, and in the process we could have found ourselves disconnected with the film.
Because of Whiplash, JK Simmons has found himself finally receiving mainstream recognition after 30 years in the business. Of course JK Simmons has been popping up and stealing scenes since the early 1990s. The likes of Law & Order, Oz, The Ladykillers and Sam Raimi's Spider-Man series, in which he majestically played J. Jonah Jameson for three films, have each been enhanced thanks to his presence. But Whiplash was one of those rare examples that saw the perfect actor cast in the perfect role. And as a result, come the beginning of March, his home should be populated with plenty of shiny accolades for him to marvel over. If that doesn't happen, then Hollywood should be thoroughly ashamed.
Your Daily Blend of Entertainment News