Michael Fassbender's Assassin's Creed May Have Found Its Director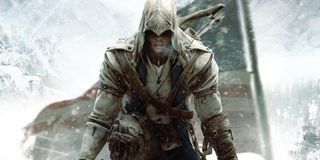 Michael Fassbender is slowly beginning his ascension to the A-List. This summer he'll appear in X-Men: Days Of Future Past, one of the season's 800 lb. gorillas. And next year he'll be taking center stage for an adaptation of the videogame Assassin's Creed. It's totally plausible that a dude like Michael Fassbender would be a secret assassin, so it makes sense that someone familiar with the actor would help convey that to audiences by stepping into the director's chair.
According to Deadline, Justin Kurzel is the man that's been tabbed to direct Assassin's Creed, the long-in-development movie of the game that has had Fassbender involved as producer and actor for over a year. The two of them just finished working on an adaptation of Macbeth, so they have a working relationship. And where do you go from Shakespeare? To video games, of course!
The twisty plot of Assassin's Creed has a contemporary bartender being recruited into an ages-old war when it's revealed that he's the descendant of an ancient caste of killers. To fulfill his destiny, he must inhabit and live through assassinations through the ages, zapping back and forth through time to relive the exploits of his ancestors in order to collect MacGuffins known as "Pieces Of Eden." The movie will probably have a more streamlined story than the games, but it might not stray too far given that the series is such a hit with fans, selling 73 million copies and spawning short films, novels and comic books. Fassbender's a pretty poker-faced dude, and this is an implausible concept: is there going to be any humor in this? Perhaps Fassy's got a funny sidekick? Maybe one who's also super cute and female, since we're checking off all sorts of demographics?
Assassin's Creed is scheduled to hit theaters next August 7th. It's currently the only movie slated for that date in a barren portion of the schedule thus far, a week after Sacha Baron Cohen comedy Grimsby and Peregrine's Home For Peculiars. A week later, August 14th is the landing spot for The Smurfs 3, though no one is in agreement that film is actually happening. August 14th is also the landing spot for the next Bourne film, and no one's heard anything about that either. Huh.
Kurzel's currently in negotiations for the job, which would be a major shift to the big budget world for the director. His first film was the absolutely terrifying The Snowtown Murders, a claustrophobic true-life story of a group of small-town thugs who recruited the town's youth to "clean up the streets" and torture and murder those even vaguely suspected of foulplay. It's so intense that it's really the only film in the last twenty years to live up to the horror and cruelty of Henry: Portrait Of A Serial Killer, a genre classic that sticks on you like a nasty grime, years after you've seen it. Kurzel's definitely got a hard-edge: does he have an eye for action too? We may find out soon.
Your Daily Blend of Entertainment News
Thank you for signing up to CinemaBlend. You will receive a verification email shortly.
There was a problem. Please refresh the page and try again.