Michael Keaton's Birdman Will Close This Year's New York Film Festival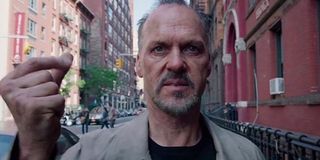 This year's New York Film Festival is quickly stacking up to be a can't miss cinematic event. Just days after announcing the selection of David Fincher's Gone Girl and Paul Thomas Anderson's Inherent Vice, NYFF has revealed the film for their closing night will be none other than Alejandro González Iñárritu's Birdman.
THR reports Birdman will make its New York premiere on October 12th at the 52nd New York Film Festival, five days ahead of its theatrical release in the United States. Prior honorees of the closing night festivities included Jane Campion's The Piano, Ang Lee's Crouching Tiger, Hidden Dragon, and Spike Jonze's Her. As you might be able to tell by former films that shared the honor of snagging the prestigious festival's closing night, the movies selected for the New York Film Festival are typically titles expected to thrive in award season. This means what might seem a wacky showbiz comedy should prove a real winner this fall.
Birdman is an R-rated dark comedy starring Michael Keaton as Riggan Thomson, a washed up actor who is best known for playing the titular superhero years before. Having the guy who defined Batman for a generation play a part like this is an inspired move that was sure to draw attention. But adding to Birdman's buzz is two-time Academy Award nominated filmmaker Alejandro González Iñárritu (Babel), and an intensely enticing cast. Emma Stone plays Thomson's resentful daughter, while Ed Norton plays Thomson's scenery chewing co-star of his Broadway show, his last ditch effort at relevance and fame. Naomi Watts takes on the role of a vulnerable actress. Zach Galifianakis plays a manager at his breaking point, and Andrea Riseborough plays Thomson's unhinged girlfriend.
Check out the first trailer below to see what has people buzzing over Birdman:
There's early reports that Birdman will not only be offering a compelling cast, enviable pedigree, and meta humor, but also some dizzying technique, as the film is said to be shot in a one-shot style that makes every sequence seemingly continuous without any apparent edits. If this is true, it's little wonder that NYFF wanted this ambitious picture for their grand finale. Unfortunately, for New Yorkers, this is not the first audiences will be seeing Birdman as the film had already secured a world premiere at the illustrious Venice Film Festival next month.
But those who can't make either event can look for Birdman in theaters on October 17th.
Staff writer at CinemaBlend.
Your Daily Blend of Entertainment News
Thank you for signing up to CinemaBlend. You will receive a verification email shortly.
There was a problem. Please refresh the page and try again.