Michael Keaton's Birdman Will Open Venice Film Festival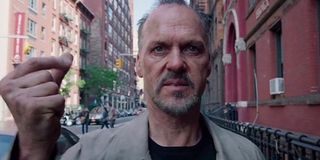 In the late 1980s, Michael Keaton was Batman. Decades later, he's Birdman in a meta dark comedy that has us intensely intrigued. And it seems we're not alone as the Venice Film Festival has just announced Birdman will open their prestigious cinema celebration next month.
Variety reports Birdman will make its world premiere on August 27th at the 71st Venice Film Festival. The movie's theatrical debut will follow on October 17th, when Birdman will land in the U.S.
Though Stateside, Michael Keaton's bizarre new project has been called simply Birdman, its title for the comedy's Venice premier is longer and bit baffling. On the Venice Film Festival website, the film is listed as Birdman or the Unexpected Virtue of Ignorance.
Whatever its called, this movie stars Keaton as Riggan Thomson, a washed-up actor who long ago played a iconic superhero called Birdman. Now he's struggling personally and professionally, trying to quell brewing family troubles while launching a bid to reclaim his fame with a Broadway show. The supporting cast has a long list of enticing names, including: Andrea Riseborough, Amy Ryan, Merritt Wever, Naomi Watts, Zach Galifianakis, Emma Stone, and Edward Norton. But the biggest draw for Venice may be Birdman or the Unexpected Virtue of Ignorance director Alejandro González Iñárritu.
The Mexican director earned acclaim right out the gate, scoring a Best Foreign Language Film nod for his directorial debut Amores Perros. Next came 21 Grams, which earned Oscar nods for its stars Naomi Watts and Benicio Del Toro. In 2006, Iñárritu brought Babel, which earned an incredible seven Oscar nominations--including Best Director and Best Picture--and won one for Best Original Score. Four years later, Alejandro González Iñárritu was at the Oscars again, thanks to Biutiful's nominations for Best Foreign Language Film and Best Actor.
With a history like this, you might assume Alejandro González Iñárritu could get into Venice directing a cat food commercial, but Birdman (or Birdman or the Unexpected Virtue of Ignorance) looks pretty fascinating on its own.
In case you missed it here's the trailer that got instant traction online:
Birdman marks Alejandro González Iñárritu's first foray into comedy. And as you can see from the trailer above, his brand of humor is dark and likely satirical. But making this star-studded meta-comedy all the more intriguing are early reports that it's shot as if made of one continuous shot. Combine the cachet of its director, stars, content and technique, it's little wonder the Venice Film Festival wanted to claim Birdman or the Unexpected Virtue of Ignorance as its own.
Staff writer at CinemaBlend.
Your Daily Blend of Entertainment News
Thank you for signing up to CinemaBlend. You will receive a verification email shortly.
There was a problem. Please refresh the page and try again.