Mike Nichols, EGOT-Winning Titan Of The Entertainment Industry, Dies At Age 83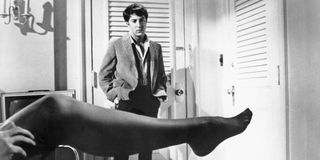 Oscar-winning filmmaker, writer and producer Mike Nichols died on Wednesday evening. He was 83.
ABC News reports that Nichols, who was married to longtime ABC News anchor Diane Sawyer, died of cardiac arrest.
Mike Nichols was a titan in this industry, accomplishing virtually everything one could strive for as a creative outlet in the entertainment field. Limiting the conversation to just his films, he directed a string of unquestionable masterpieces, from The Graduate (which earned him his Oscar) to Working Girl, from the controversial Silkwood to the upbeat (but still button-pushing) The Birdcage. Revisit some of them on Netflix tonight. Nichols made movies for intelligent adults, and his films sparked conversations that were equal parts engaging and important. But his gift was in his dialogue, delivering a message – and working with some of the greatest actors in the business – without ever preaching via the heavy hand. It could be argued that Mike Nichols brought out the best in some of our finest actors, from Dustin Hoffman:
To Meryl Streep:
To the late Philip Seymour Hoffman, who DESTROYS in this scene from the underrated Charlie Wilson's War. (This clip is about as NSFW as they get):
Mike Nichols' outstanding career wasn't limited to film, however. He's one of the rare greats who collected an Emmy, a Grammy, a Tony and the Oscar – the nearly-impossible EGOT. And he continued to produce award-winning gems late in his career, as when he directed the incredible adaptation of Angels in America for HBO in 2003.
In a note following Mike Nichols' passing, James Goldston, President of ABC News, writes:
Mike Nichols is survived by Diane Sawyer, his wife of 26 years; three children; and four grandchildren.
Movie junkie. Infatuated with comic-book films. ReelBlend cohost. Resident dad. Extroverted introvert. Wants to see the Snyder Cut. Managing Director at CinemaBlend.
Your Daily Blend of Entertainment News
Thank you for signing up to CinemaBlend. You will receive a verification email shortly.
There was a problem. Please refresh the page and try again.