Modern Family's Ty Burrell To Sculpt Butter With Jennifer Garner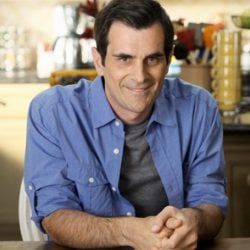 Playing the well-meaning and bumbling Phil Dunphy, Ty Burrell is quickly becoming the highlight of Modern Family, which is saying a lot on a show that is consistently so funny. If you missed last week's episode, in which Phil lusts after an iPad for his birthday, I've embedded it for you below-- it is so, so worth your time.
Anyway, clearly I'm not the only one in Burrell's fan club right now. Variety reports that he's in final negotiations to star opposite Jennifer Garner in Butter, a comedy about a small-town butter sculpting competition. The movie is actually a sort of allegory for the 2008 Presidential primaries, in which Burrell's character is the Bill Clinton-esque reigning champion forced to step down, Garner plays his wife eager to have the spotlight to herself, and Imagine That cutie Yara Shahidi steps in as the 10-year-old, Obama-esque challenger.
I'm extremely excited about this crazy-sounding movie, and even more excited to see Burrell getting in on the madness. Now who gets to play the philandering prettyboy who may or may not resemble John Edwards? Does a Sarah Palin stand-in at least get a cameo?
Staff Writer at CinemaBlend
Your Daily Blend of Entertainment News
Thank you for signing up to CinemaBlend. You will receive a verification email shortly.
There was a problem. Please refresh the page and try again.