Monday Movie Memo: How Bizarre Were Those 22 Jump Street Jokes?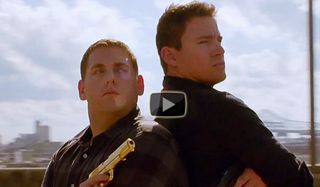 The comedy sequel 22 Jump Street -- starring Channing Tatum and Jonah Hill as undercover cops on a college campus -- held off a hard-charging How to Train Your Dragon 2 over the weekend to claim the top slot at the box office.
That's not what was strange. There were a series of gags in the extremely meta comedy that were a little too "on the nose." It was almost as if jokes about Tracy Morgan and a particular, homophobic slur were included to capitalize on recent news stories. I mean, some of these were just TOO coincidental?
Did the movie handle these jokes the right way? We discuss in the Monday Movie Memo.
In the meantime, did you read our 22 Jump Street review?
We also put together a 24-hour movie marathon consisting ONLY of sequels to movies based on TV shows. Who knew there were so many?
Also, we sat down with Channing Tatum and Jonah Hill:
And followed up with Phil Lord and Chris Miller.
Movie junkie. Infatuated with comic-book films. ReelBlend cohost. Resident dad. Extroverted introvert. Wants to see the Snyder Cut. Managing Director at CinemaBlend.
Your Daily Blend of Entertainment News
Thank you for signing up to CinemaBlend. You will receive a verification email shortly.
There was a problem. Please refresh the page and try again.