More Evil Dead Movies? Bruce Campbell Just Said This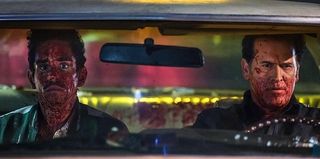 Fans of the Sam Raimi-directed, Bruce Campbell-starring Evil Dead series are some of the most rabid and devoted there are, and they're pretty stoked at the prospect of the upcoming Ash vs. Evil Dead on Starz. As awesome as that is, however, they're still clamoring for more movies, a possibility that Campbell didn't rule out.
The most famous chin in the business took to the stage at the Television Critics Association summer press tour to chat up Ash vs. Evil Dead. Deadline caught his panel, and discussing the future of the franchise he said:
He's obviously mostly kidding around, joking about how fanatical the devotees of the franchise are, but you can't put it past them. After all, who thought we were going to get more twenty-plus years after Army of Darkness?
Talk on the matter even continued as Sam Raimi, who was onstage with Bruce Campbell and co-star Lucy Lawless, said that if Campbell got in front of the camera for another Evil Dead movie, he would be behind it. In fact, the Spider-Man director is helming at least the pilot of Ash vs. Evil Dead, as well as producing the series and contributing to the writing. His fingerprints are going to be all over this.
Ash vs. Evil Dead picks up with the title hero in the modern day. He's down on his luck, living in a trailer, still working the same type of dead end stock boy jobs that he was last time we saw him. Somehow that ancient evil he tussled with so many years ago comes back to life and once again he is the only one who can stop the Deadite scourge. It's time to break out the chainsaw for one more ride.
This time, however, he has help, enlisting the aid of two coworkers. He has Pablo Simon Bolivar (Ray Santiago), a hero-worshipping sidekick, and Kelly Maxwell (Dana DeLorenzo), a sarcastic, not to mention reluctant, part of the crew. There are also a few other players involved in this drama, including Ruby (Lucy Lawless), who is tracking down the source of the Deadite infestation on her own, and Amanda Fisher (Jill Marie Jones), a state trooper who believes Ash had something to do with the death of her partner.
For now, however, we'll just have to be content with Ash vs. Evil Dead, and if this trailer released at San Diego Comic-Con earlier this month is any indication, it's going to be exactly what fans want to see.
The first of 10 half-hour episodes of Ash vs. Evil Dead debuts on Starz on Halloween, we'll have to wait and see about more movies. Now I just have to figure out how to get Starz.
Your Daily Blend of Entertainment News