Movie Theaters To Test A Discount Plan For Cheaper Tickets One Day A Week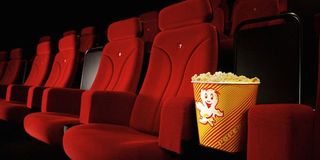 Would you go to the movies more if it were cheaper? I would. I've been and continue to be a movie fan, but in this day of digital downloads, Redbox and Netflix, I can get a pretty steady fix of great films (not to mention great television) for substantially cheaper than what it costs to go to the theater. But I still like going to the theater, so word that the National Association of Theater Owners is looking into a test to see if discounted ticket prices once a week would boost attendance piques my interest.
THR says this move comes in the wake of declining admissions among movie-goers under the age of 50, including teens. The National Association of Theater Owners is said to be considering a plan to test discounted ticket prices one day a week. It's something that's apparently worked well in Canada and Latin America. From the sound of it, they're looking to test this out in one specific state, but they wouldn't give further details on that, as the model isn't fully developed. But it sounds like this test will happen sometime later this year and they're hoping that all theaters will participate, as their belief is that it'll work best if it's statewide.
THR notes that movie admissions remains flat in North America, though the increased cost of going to the movies is contributing to an overall rise of box-office revenue. The MPAA's 2013 numbers say that moviegoers between the ages of 12-17 fell from 6.3 million in 2012 to 5.5 million. And the number of moviegoers ages 18-24 fell from 8.7 million to 7.2 million. The drop for people ages 25-39 was from 9.9 million to 8.2 million. The numbers were actually up for children and people over the age of 50.
As someone who would probably go to the movies more if it wasn't so expensive, I'm hopeful this test is successful. Right now, the chain I visit only offers discounts on popcorn and candy during certain weeknights. That's a nice perk, but it's hardly an incentive to go to the movies more often.
Here's the only issue I see with the once-a-week discount idea. Yes, it might fill more seats during that night of the week, but how is this all that different from matinee pricing? Beyond the fact that this would discount tickets for one whole day a week as opposed to just the afternoon, it still requires people to be available and interested in seeing movies within a specific timeframe. A trip to the movies is traditionally a weekend affair. So while I think a weekly discount day on Tuesdays or whenever they decide to do it might be effective in getting people to start coming back to the theater, I'm not convinced a program like this would solve the problem completely, especially as movie fans continue to have convenient and affordable alternatives to see movies, if they're willing to wait. At the very least, I'd be more excited if theaters were willing to discount tickets for films at some point after their opening weekend.
This poll is no longer available.
Kelly joined CinemaBlend as a freelance TV news writer in 2006 and went on to serve as the site's TV Editor before moving over to other roles on the site. At present, she's an Assistant Managing Editor who spends much of her time brainstorming and editing feature content on the site.
Your Daily Blend of Entertainment News
Thank you for signing up to CinemaBlend. You will receive a verification email shortly.
There was a problem. Please refresh the page and try again.