Mr. T Will Not Cameo In The A-Team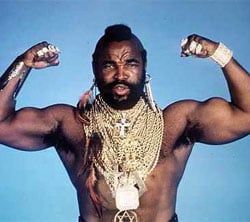 Ever since casting for The A-Team wrapped up and shooting began, all of the Internet buzz surrounding the remake is about cameos. In early November word got out that the original "Howling Mad" Murdock, Dwight Schultz, had been keeping an eye on his successor, Sharlto Copley, and will make an appearance in the film. Just two weeks later, Dirk Benedict, the original "Faceman" Peck, was rumored to have a cameo himself. It looks like director Joe Carnahan will have to settle with two of three, because Mr. T has no intentions of being part of the film.
While at the gym, Latino Review bumped into Mr. T and spoke with him about the topic. Here's LR's recap of the conversation:
Um, okay, I guess. Latino Review emphasizes that Mr. T is 'one of the nicest guys you'll ever talk to,' but I'm not buying this. Not that Schultz and Benedict's involvement are 100%, but if their cameos do happen this is a pretty lame excuse for backing out of an arrangement that would have been the ultimate treat for fans of the show.
The news is certainly disappointing, but I've got high hopes the final product will be far from that.
Your Daily Blend of Entertainment News
Staff Writer for CinemaBlend.