The Muppets 2 Swaps Christoph Waltz For Ty Burrell In Inspector Role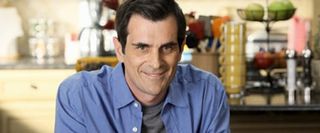 Ty Burrell shows up in what feels like literally every single commercial on my TV screen, and he's looking to get even more ubiquitous. The Modern Family star is reportedly all set to star in the upcoming sequel to The Muppets, taking a role that Christoph Waltz was once eyeing.
According to The Hollywood Reporter it was Waltz's schedule that got in the way, so now Burrell gets to take his biggest film role since breaking out as the befuddled dad Phil Dunphy on the hit ABC sitcom. THR describes the role as an Interpol inspector, which makes a whole lot more sense for Waltz, but maybe Burrell will be the new American recruit for the international police force. It's described as a key role, but it's hard to imagine an Interpol inspector playing the kind of major part that Jason Segel-- who won't be returning for the sequel-- played in the original The Muppets.
Even though Segel has bailed, The Muppets director James Bobin will be back for more, as will Oscar-winner Bret McKenzie. Burrell surely won't have a hard time getting on board with the silly Muppet humor-- but we have to admit, it would have been fun to see Waltz palling around with Kermit and company as well.
Staff Writer at CinemaBlend
Your Daily Blend of Entertainment News
Thank you for signing up to CinemaBlend. You will receive a verification email shortly.
There was a problem. Please refresh the page and try again.