Must Watch Kites Trailer: Brett Ratner Turns Bollywood Into Rush Hour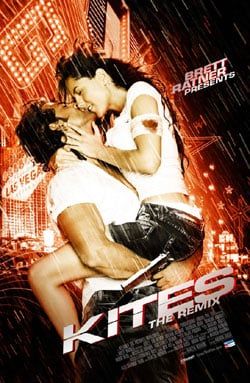 Ever since that incident a few years ago when Richard Gere found himself being burned in effigy in India for having the audacity simply to kiss an Indian actress, I think for a lot of people their impression of anything coming out of Bollywood has been one of censorship and sexual repression. They dance because they can't do anything real, it's all a sad metaphor for the physical contact they're trying to deny. And maybe, to some extent, that view has been justified. Enter Brett Ratner.
Ratner's reputation couldn't be anything further from the Bollywood norm. He's known for movies full of fast cars, fast women, and big explosions. Subtlety isn't his thing and involving him in a Bollywood production sounds like a recipe for disaster, or at least another protest march. But on May 28th the movie Kites hits theaters thanks to Brett Ratner, and though it's a Bollywood production, never has any movie looked less like a Bollywood movie.
On May 21 the original version of Kites will open globally, including in 200 locations here in America. But the Ratner version, something they're calling Kites: The Remix, will open a week later on May 28th. This is a re-edited version of the 130 minute movie. This Remixed version is only 90-minutes long and it's been reworked by Ratner to be faster, younger, hipper, and let's face it, probably more like Rush Hour.
But judging from the movie's trailer, doing that that may not have been as challenging as it sounds. The trailer is filled with all the things you don't really expect from Bollywood movies, things which had to be there long before Ratner touched it. The film's female lead spends most of the trailer running around in a string bikini. It's full of fast cars, fast women, and lusty physical contact. It feels like a high-octane American movie and not all of that is simply the work of Ratner. Shot entirely on location in America, it's unlike any Bollywood movie you've seen before.
The really surprising thing here is that the trailer is good, really good. It's a visually stunning film, and not just because Indian star Hrithik Roshan and Mexcican actress Barbara Mori spend so much of the teaser barely clothed. The cinematography on display is simply eye-popping and if there's a decent story here Kites could be, at the least, entertaining. Watch the trailer explanation free, then I'll give you the full plot description:
Here's the official plot synopsis: "In the harsh terrain of the Mexican desert, a mortally wounded man is left for dead in the heat of the desert sun. This is J. Once a street smart, carefree young guy. Now, a wanted man. As death looms, the only thing that keeps him alive is the quest to find the love of his life, Natasha. A woman betrothed to another man, but surely destined for J. A woman who comes into his life like a bolt of lightning and changes it forever "
The film's distributor is pushing the notion that this is more than just a Bollywood film, but a movie which much like any big Hollywood release, has international appeal. From the trailer, they certainly seem right. I wonder though, if Ratner's edit will really help it, or hurt it? It's not the first time Hollywood has tried something like this, though I don't think they've ever actually used this kind of editing as a marketing tactic before. If it works, does this mean we're in for a whole slew of international "Remix" movies? If Kites: The Remix works as well as the trailer, maybe that's not a bad thing.
For more information on Kites and Kites: The Remix click the image below to visit our preview page, complete with detailed information and a huge gallery of images.
Your Daily Blend of Entertainment News