My Little Pony Is Getting Its Own Movie, Here Are The Details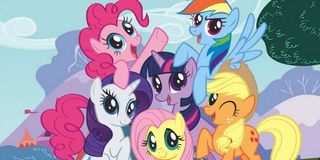 Considering the widespread success of its latest incarnation Friendship is Magic, it's shocking it's taken this long, but My Little Pony is finally getting a feature film.
Variety revealed that Hasbro Studios, the production company behind the cartoon series My Little Pony: Friendship is Magic, has greenlit an animated My Little Pony movie that's slated to hit theaters in 2017.
Typically a toymaker, Hasbro has licensed out other properties to studios for movie adaptation. Paramounts made bank with Transformers and G.I. Joe. Sony is working out movie versions of board games Monopoly and Candy Land, while Universal will unveil Oujia this weekend. But for My Little Pony's movie, Hasbro's looking to be more hands on. The production company will finance the film and produce alongside Allspark Pictures, a new banner that's currently in postproduction on another 1980s toy-inspired movie, Jem and the Holograms.
President of Hasbro Studios, Stephen Davis, explains, "We have a lot of experience working on this particular brand." He went on to hint that unlike Transformers and G.I. Joe, the My Little Pony movie won't demand a $100 million plus budget to impress its audience. With My Little Pony: Friendship is Magic having hit its 100th episode, spawned a spin-off My Little Pony: Equestria Girls, and found television distribution in more than 180 countries worldwide, the audience for this movie is well established. And as the years of success of the series have shown, it's a more diverse audience that initially intended.
When Lauren Faust was asked to essentially reboot the My Little Pony brand in 2010, she did it with an eye toward making a cartoon series that could be equally enjoyed by mothers and little girls. The colorful ensemble of Twilight Sparkle, Pinkie Pie, Fluttershy, Rarity, Applejack and Rainbow Dash was meant to be entertaining, relatable, and educational on the front of social behavior and friendship. Little did Faust expect her message about the power of community and acceptance would catch on among young men, sprouting a whole subculture of Bronies.
We suspect that the My Little Pony movie will attempt to appeal to the entirety of the TV's shows current fandom. But it'll be interesting to see how many Easter Eggs might be included about the fervent fan culture. For now, fans of the show will be relieved to know that Megan McCarthy, who writes and produces for Friendship is Magic, is on board as a producer for the movie. However, there's no mention of Lauren Faust's involvement. (She may be tied up with her Medusa movie.) Instead, Hasbro has contracted Joe Ballarini, writer of the 2008 horror-comedy Dance of the Dead to pen the script. It's an odd choice to say the least, but maybe the guy's a Brony who sold himself with a solid pitch.
From here, we'll be interested to see who Hasbro brings in to direct this animated feature. Holler in comments if you have suggestions.
Your Daily Blend of Entertainment News
Staff writer at CinemaBlend.