Animated Medusa Movie Coming From My Little Pony Creator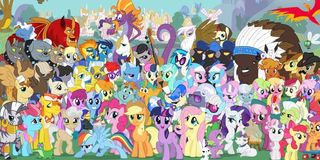 Disney has an apparent hit with the Maleficent. The tent pole that re-imagined Sleeping Beauty from the perspective of its villain has already amassed $93 million domestically, and in just 7 days. Now Sony is looking to re-imagine an iconic villainess of their own, but they are reaching far beyond fairy tales, all the way back to ancient myths.
Indie Wire reports Sony Pictures Animation is developing Medusa, an animated adventure that will give a new perspective on the snake-headed beastie of Greek mythology. The studio bought the pitch for this from Jenny Marchick and Daniel Inkeles, but Sony got serious about Medusa's potential when they attached Lauren Faust to helm.
Lauren Faust has a storied history in animation, working on cartoon shows like The Powerpuff Girls, Foster's Home for Imaginary Friends, and Super Best Friends. But she became a goddess among geeks when she rebooted the My Little Pony franchise with My Little Pony: Friendship Is Magic. The chipper series was meant to appeal to little girls and their mothers in equal measure, as Faust set out not only to entertain but to help mother and child have a show they could bond over. Of course, if you've been on the internet since the show's debut in 2010, you probably know about the unpredicted audience that has become obsessed with all things My Little Pony: Friendship Is Magic. Of course, I mean the Bronies.
In case you are unfamiliar, here's a short intro to all things Bronies from the documentary Bronies: The Extremely Unexpected Adult Fans of My Little Pony.
I bring up the Bronies mainly to point out how Faust's brand of storytelling and humor extends beyond that of little girls and women. Along with an enchanting visual style and charming life lessons, My Little Pony: Friendship Is Magic also offered nods to geek culture, including Star Trek, Dungeons & Dragons, and even its own online fandom. Simply put, it's a smart move for Sony to bring in a director who has a great background, not only in crafting compelling and funny stories with heroines at the center, but also in writing content that appeals to adults as well as children.
In a statement, Lauren Faust shared her thoughts on the project, and in doing so gives us a bit of background on its premise:
There's no word yet on when Medusa might hit theaters. But in the meantime, Sony Pictures Animation has Hotel Transylvania 2 and Sausage Party to look forward to.
Your Daily Blend of Entertainment News
Staff writer at CinemaBlend.