Naomi Watts To Join Insurgent And Allegiant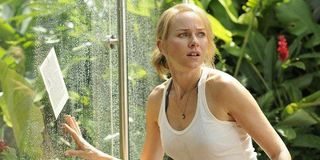 It's time for Naomi Watts to get some of that sweet, sweet franchise money. The Oscar-nominated actress has been so prolific over the last few years that it's easy to lose track of her, melting in and out of the backgrounds of movies with both high and low profiles. Now Naomi Watts is ready to join a massive franchise in a show-stopping role; you're not gonna miss her this time.
The Hollywood Reporter says that Naomi Watts is set to appear in Insurgent, the upcoming sequel to this year's young adult adaptation Divergent. Watts will play Evelyn, the leader of a group called the Factionless who team with Tris (Shailene Woodley) in their fight against a dystopian future government. Spoiler alert: she lives, because she'll also be appearing in Allegiant Parts One and Two, the final chapters of this series.
Evelyn is described in the book as having a hooked nose (…) so don't be surprised to see Watts trying on some prosthetics. She's also the mother of Four, the character played by Theo James, and if you look online you can discover facts about her that definitely feel like spoilers.
Insurgent is being directed by Robert Schwentke, somehow bailed out of Director Jail after the unwatchable R.I.P.D.. The original cast is returning, including Woodley, Theo James, Jai Courtney, Ansel Elgort, Kate Winslet and Miles Teller are returning for the sequel, along with newcomer Octavia Spencer. Insurgent, written by Brian Duffield and Akiva Goldsman, is scheduled to be released March 20th, 2015 and is currently in production. The two parts of Alliegiant will see theatrical release on March 16th, 2016 and March 24th, 2017, respectively.
Watts has a crazy busy schedule lined up. She's reuniting with 21 Grams director Alejandro Gonzalez Inarritu in Birdman and will show up in St. Vincent later this year with Bill Murray and Melissa McCarthy. She's also joined Matthew McConaughey in Gus Van Sant's intriguing-sounding Sea Of Trees. She recently drew some flack due to the horrific reception to Diana, but Watts stays so busy that she's never playing the same part twice, and will likely emerge from that experience unscathed. I'm not sure how she's old enough to play the oldish-looking Theo James' mother, but since when has Hollywood been interested in age-appropriate casting?
It's interesting that they're stretching this series as far as possible, bringing Watts on for three more films. Will the audience even want three more movies? The model for success is obviously The Hunger Games, another trilogy-turned-quadrilogy that so far has produced a couple of massive blockbusters. Divergent, meanwhile, was only somewhat well-received: the reviews were not enthusiastic, and the first film only grossed $267 million worldwide, which included a lukewarm international reception of only $118 million internationally. Compare that to The Hunger Games: Catching Fire, which grossed a spectacular $439 million outside of America alone. Does Insurgent have enough of a hook to improve upon those numbers? It sounds like that's exactly what they're counting on.
Your Daily Blend of Entertainment News
Thank you for signing up to CinemaBlend. You will receive a verification email shortly.
There was a problem. Please refresh the page and try again.