Naomi Watts Playing Marilyn Monroe, Sort Of, In Blonde Adaptation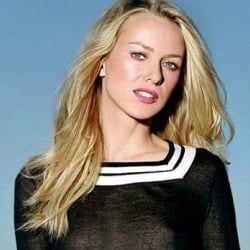 Seven years passed between Andrew Dominik's directorial debut Chopper and his follow-up, 2007's Assassination of Jesse James. Lucky for fans of that elegant neo-Western, though, Dominik is moving forward a little quicker this time, though with a subject that's nothing like the male-centric stories of his past two films.
Screen Daily reports that over at Cannes, Screen Daily is handling sales for Blonde, Dominik's adaptation of Joyce Carol Oates's novel, not-so-loosely based on the life of Marilyn Monroe. Naomi Watts is set to star in the film, which starts shooting in January. Dominik explained to Screen Daily, "I want to tell the story of Norma Jean as a central figure in a fairytale; an orphan child lost in the woods of Hollywood, being consumed by that great icon of the twentieth century." That's pretty in tune with the tone Oates struck in the novel, which focused on the interior life of the sex symbol who, as pretty much everyone knows by now, was far from the sun-kissed, carefree beauty the movies turned her into.
Vincent Maraval of Wild Bunch had even more grandiose explanations of Dominik's plan: "We trust his vision to deliver us a Marilyn biopic which will not be a classic one but a modern Raging Bull which will explore one of the most iconic figures of this century. Whilst the tabloid press has grown in popularity by taking advantage of such tragedies, we at Wild Bunch are seduced by the humanity, the emotion and the tragic destiny of such a powerful character."
I read Blonde a few years back and was engrossed by it, and I found a lot of good in Jesse James alongside what felt like a lot of self-indulgent cinematography and lack of narrative focus. But here's my major concern about this project: it might be complete torture. Oates's book is unflinching and occasional brutal, and Dominik's take on the story seems to be watching one innocent woman completely ground up by a corrupt system. The presence of Naomi Watts seals the deal-- she seems to enjoy being tormenting onscreen more than any other actress working today. I'm not saying this couldn't all work out marvelously, but it might also be the first American movie to equal Lars von Trier in pure misery.
Staff Writer at CinemaBlend
Your Daily Blend of Entertainment News
Thank you for signing up to CinemaBlend. You will receive a verification email shortly.
There was a problem. Please refresh the page and try again.