Nat Wolff And Laura Dern Join Shailene Woodley For The Fault In Our Stars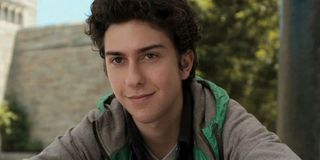 Well, it's not the role Katey had picked for him, but it's not too shabby. EW reports rising up-and-comer Nat Wolff has finally signed on to Josh Boone's adaptation of The Fault in Our Stars. And The Wrap reveals Enlightened's leading lady Laura Dern will also be joining the cast that includes celebrated Descendants' starlet Shailene Woodley and newcomer Ansel Elgort.
Based on John Green's popular YA novel, The Fault In Our Stars stars Woodley as Hazel, a 16-year-old girl who has been fighting terminal cancer since she was diagnosed at 13. But her sad story gets an exciting new chapter when she meets the dreamy (but also cancer-stricken) Augustus Waters at a Cancer Kids Support Group.
Back in May, Wolff was said to be among one of five young actors being eyed for the role of Augustus, along with Maleficent's Brenton Thwaites, The Kings of Summer's Nick Robinson, Noah Silver, and Elgort. Despite having worked with The Fault In Our Stars director on his first film, Stuck in Love, it seems Wolff didn't have the edge over Elgort, who ultimately got the part. However, the Naked Brother turned Admission star has since signed on to play Augustus's best friend Isaac, who is responsible for the leads' meet-cute, having urged Augustus to attend the Cancer Kids meet-up. For her part, Dern will play Hazel's mother, a part that seems sure to be small. But Dern is guaranteed to make the best of it.
As the book had cross-demographic success—appealing to both teens and adult—it seems likely The Fault In Our Stars's movie adaptation will aim to do the same. As they've got Twilight producers Wyck Godfrey and Marty Bowen on board, this production seems like it's off to a solid start. Plus, the upcoming Divergent could prove a powerful front-runner for boosting this pic's buzz, as the films share two stars.
Based on another popular YA book, Divergent has Woodley and Elgort playing brother and sister instead of teen lovers. Directed by Neil Burger, the dystopian adventure that centers on a teen girl who realizes a conspiracy plans to wipe "Divergent" people like her off the planet looks like it's aiming for the same audiences that turned out in droves for Twilight and The Hunger Games. If this Woodley movie, which opens next spring, proves anywhere near as popular as we suspect it will, that's only good news for The Fault In Our Stars.
Production on The Fault In Our Stars will begin in Pittsburgh, Pennsylvania next month. In the meantime, you can look for Woodley in the heralded coming-of-age drama The Spectacular Now, and Elgort in the upcoming Carrie remake. You can check out the trailer for Boone and Wolff's Stuck in Love below:
Staff writer at CinemaBlend.
Your Daily Blend of Entertainment News
Thank you for signing up to CinemaBlend. You will receive a verification email shortly.
There was a problem. Please refresh the page and try again.