Natalie Portman's Naked Movie Online Now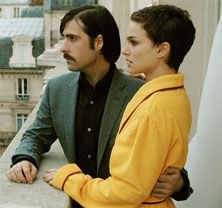 Sorry about the story title, but let's face it, the only reason most of you are interested in Hotel Chevalier is because you've heard Natalie Portman is naked in it. If you haven't heard about her nudity, then there's a good chance you haven't heard about Hotel Chevalier, so let's set the stage.
Hotel Chevalier is a beautiful short film shot by Wes Anderson, intended to be shown before The Darjeeling Limited as sort of a prequel to the movie. It lasts about ten minutes, and features Jason Schwartzman and Natalie Portman getting hot and heavy in a hotel room. It actually does a great job of setting the stage for Darjeeling, since Schwartzman's relationship with a former girlfriend is referenced and without the short you'll probably have no idea what anyone is talking about. It also helps Natalie Portman's cameo in Darjeeling make a lot more sense.
The short has been shown in front of The Darjeeling Limited at film festivals and at screenings for film critics, but it will not be shown in front of the movie when it is officially released in theaters. Instead, for whatever reason, the studio has decided to use it as part of a viral marketing campaign. The short is being made available for free online in the hopes that a long look at Natalie Portman's bare haunches will convince you to buy a ticket to Darjeeling… even though she's not really in Darjeeling Limited.
I still say the short belongs with the movie, but at least it's being made available for free. In fact, it's online right now through iTunes. Portman nudity aside, it's an excellent piece of awkward eroticism from Anderson, a guy who really hasn't made anything sexy before. What are you waiting for? Click here and start watching.
Your Daily Blend of Entertainment News