What Bill Clinton Told Ethan Hawke While They Peed Next To Each Other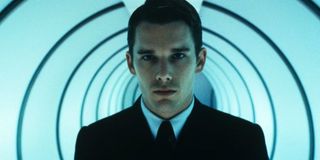 Ethan Hawke has been having a crazy year, thanks to his buzzworthy role in Richard Linklater's Boyhood. He recently earned himself a Golden Globe nomination for Best Supporting Actor for his performance, as well as numerous recognitions by critic circles across the country. But arguably the craziest thing to happen to Hawke happened when he was peeing next to former US President Bill Clinton.
It's a pretty hilarious story that the actor dropped in a massive interview with The Daily Beast. This is how he tells it:
Gattaca is Hawke's 1997 sci-fi film that takes place in a world where genetics are everything, including determining where one works and who one marries. When a man with proclaimed inferior genetics dreams of traveling through space, he masquerades as a member of the genetic elite. It's good to know that Clinton has good taste in movies -- he also enjoys the work of Roland Emmerich -- but the story would've been a whole lot funnier if he had been a fan of Hawke's through his one-time voice acting gig on Robot Chicken.
You gotta appreciate his balls, right? The fact that Clinton takes no issue in interrupting a Golden Globe- and Oscar-nominated actor's urinal visit to make his fandom known is pretty hysterical. Though, it's important to remember that this is the same guy who passed a My Little Pony quiz on NPR and starred in a hilarious Funny or Die sketch alongside Ben Stiller, Kristen Wiig, Sean Penn, Matt Damon and Kevin Spacey.
Maybe Hawke will eventually win that Golden Globe or earn an Oscar nomination for Boyhood and Clinton will have to change his response the next time he encounters the actor at a urinal. However, Barack Obama is still the all-time winner of US president-celebrity encounters. With his appearances on Zach Galifianakis' Between Two Ferns, Jon Stewart's The Daily Show, and The Colbert Report, there's no wonder movie stars love this guy. Not to mention that his favorite movie of the year is Boyhood. Full circle.
Your Daily Blend of Entertainment News
Thank you for signing up to CinemaBlend. You will receive a verification email shortly.
There was a problem. Please refresh the page and try again.