Kristen Wiig Reveals Nude Scene For Dramedy Welcome To Me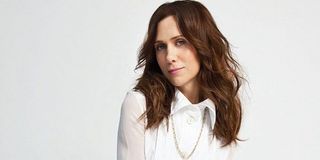 Kristen Wiig broke through with Saturday Night Live playing a wide array of completely bonkers characters. But the actress has been working hard to show her range since leaving the sketch show. And soon she'll take another bold step for her art and career, going fully nude for Welcome to Me.
The celebrated comedienne will grace the cover of Elle Magazine's August issue. And when she sat down for the cover story interview, Kristen Wiig spoke frankly about the nudity required in the upcoming dramedy Welcome to Me. In the film, she stars as Alice Klieg, a Bordline Personality Disorder sufferer who wins the lottery, bails on her meds, and buys her way into a talk show of her very own. Says Wiig of the script by Eliot Laurence:
In an age where even a frame of nudity can be forever preserved (and ogled) online, it's easy to understand how a full on nude scene could give Wiig pause. But Wiig is a bold performer, and a groundbreaker. The Academy Award-nominated writer and star of Bridesmaids is embracing this scene along with the character of Alice, that she found so compelling.
Welcome to Me will be helmed by Shira Piven, A.K.A. Adam McKay's wife, who made her directorial debut in 2011 with the little-seen comedy Fully Loaded. We first got word of Piven's follow-up in the spring of 2013, when McKay and Will Ferrell's production company Gary Sanchez began courting Wiig to star. Piven went on to fill her supporting cast with noteworthy players, like Linda Cardellini, James Marsden, Alan Tudyk, Jennifer Jason Lee, Loretta Divine, Thomas Mann, Wes Bentley, Tim Robbins, and (of course) Will Ferrell. The film has wrapped, and now we await news on when Gary Sanchez will usher Welcome to Me into theaters.
But this is far from the only film project that Wiig fans have to look forward to. Coming to theaters this September is Wiig's reunion with Bill Hader for the Sundance celebrated drama The Skeleton Twins. Following that is Chilean writer-director Sebastian Silva's latest drama Nasty Baby, follow-up to the one-two punch that was the Michael Cera-fronted double-feature Magic Magic and Crystal Fairy and the Magical Cactus.
2015 will bring the Marielle Heller-helmed 1970s-set drama The Diary of a Teenage Girl, in which Wiig co-stars with Alexander Skarsgård and Christopher Meloni. Beyond that, Wiig is attached to star in Jared Hess's Loomis Fargo, an action-comedy based on a real heist. This flick boasts in its ensemble Jason Sudeikis, Owen Wilson, Zach Galifianakis, Ken Marino and current SNL comedienne Kate McKinnon. And lastly, Kristen Wiig will lend her voice to the weird 2016 animated adventure Sausage Party, which follows a sausage's quest to understand where he comes from.
But if you can't wait for more Wiig, check out the cruelly overlooked Hateship Loveship in which she offers an incredible and tender dramatic turn. It's now available on VOD. (opens in new tab)
Staff writer at CinemaBlend.
Your Daily Blend of Entertainment News
Thank you for signing up to CinemaBlend. You will receive a verification email shortly.
There was a problem. Please refresh the page and try again.