Nebraska: Alexander Payne And Bruce Dern On 3D IMAX Tricks And Making Movies About People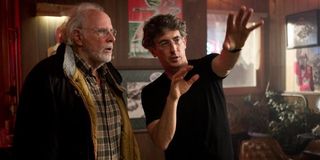 "Have you seen my movie yet?"
Alexander Payne has caught me off guard. We are meeting at the Savannah Film Festival in coastal Georgia, where Payne's Nebraska has been selected as the fest's Opening Night Gala film. He agreed to a few minutes of one-on-one conversation, and I jumped at the chance. But interviews don't normally start with questions directed at me. And in this particular situation, I haven't yet seen Payne's latest endeavor, the black-and-white/father-son/road-trip meander starring Bruce Dern and Will Forte.
I take a chance and admit to Payne that I haven't seen the film, and plan on attending the premiere that night.
"Then why are we talking now?" he asks, with sincere curiosity.
Great question. Thankfully, when you are sitting across from a filmmaker as diverse and accomplished as Payne, it's easy to dance through other interesting topics – or, at least, topics you hope that he will find interesting.
Payne, however, can be as blunt and no-nonsense as the Midwestern characters who populate his current narrative. When asked about how differently Nebraska might have been had he worked on it years ago – when he first concocted the idea of the story in his head, he waves off the notion.
"I feel like a politician. 'Sir, I don't deal in a world of could-have-beens or might-have-beens! I deal with what is,'" he says with a laugh. "I don't know. Maybe it would have been better?"
That would be difficult. Nebraska continues Payne's impressive streak of being able to burrow beneath the surface of recognizable characters and explore what makes them tick. The barren, harsh landscapes of Montana and Nebraska are a stark contrast to the lush Hawaiian backdrops of Payne's last film, the Oscar-winning drama The Descendants. And yet, as he did in that, Payne is able to pull genuine human emotions out of abnormal situations, putting his characters – and, by extension, us – in exaggerated scenarios that honestly seem like they could be waiting for us right around any corner.
Having Dern in the lead role of Woody helps Payne's cause. The veteran character actor wears decades of baggage on his slumped shoulders and weathered face – often locked into a vacant stare – as Nebraska trudges along. In the story, Woody foolishly believes that he's won $1 million in a Publisher's Clearinghouse-type mail scam. He's adamant about venturing to Nebraska to claim his prize, even if it means he has to walk there. Realizing he won't be able to talk Woody out of it, the old man's son (Forte) agrees to a weekend road trip, which reveals more about the two men than any of us could have expected.
The actor also is in Savannah to present Payne with the Outstanding Achievement in Cinema award prior to the Nebraska screening. The director dangled the role of Woody in front of Dern years ago. Then they both had to wait while Payne progressed through About Schmidt, Sideways and The Descendant. So far, it has been worth it. Earlier this year, Dern won an acting prize for Nebraska at the Cannes Film Festival. Oscar pundits have him on a short list for a Best Actor Oscar nomination.
"By the time he'd talked to me, he had seen every 70-year-old man on the planet Earth," Dern tells me as we sat down to talk about the movie.
Payne's use of black-and-white cinematography strikes me as offbeat. Studio executives are falling over each to greenlight IMAX and 3D projects. Directors like Peter Jackson and Bryan Singer experiment with 48 frames-per-second presentations. Instead of looking forward, Payne looks back to the way movies used to be made. I ask him if those modern tools interest him at all as a storyteller.
"Not really," he says with a shrug. "I just saw Gravity in IMAX 3D, and I liked that. I saw Avatar in IMAX 3D, and I liked that, too… It's a magnificent vision, and a magnificent stunt. It was just magnificent. It's not what you do, though, it's how you do it. You know?"
"I can't think of any movie I've ever done where the [special] effects are what the movie is about," Dern chimed in on the topic. "We did a documentary called A Decade Under the Influence, which is about the movies of the '70s. At the end of it, Martin Scorsese says, 'You know, I'm just blown away by the wizardry, the technology, and the propensity to make money fast.' Meaning making $100 million on opening weekend, or some crazy number like that.
"But at the end of the day, you miss the people," Dern continued. "I make movies about people. Alexander makes movies about people. Not that nobody else does. They all do! But that's basically what we are in to. I'm just interested in telling a story, and if you can invent a way for us to tell a story using whatever device enhances the story, I'm all for it. If it doesn't enhance the story, then why do it?"
"It all depends on the screenplay," Payne continues. "If the screenplay calls for it, I'm interested. But am I attracted to those toys in and of themselves? No. It's hard enough just to shoot two people sitting next to each other like you and I are."
Hoping to better understand, I ask him if, when it came to Gravity, he was hooked on the characters as opposed to the special effects.
"Oh no!" he exclaims. "What characters?"
Nebraska is in theaters as we speak.
Sean O'Connell is a journalist and CinemaBlend's Managing Editor. He's frequently found on Twitter at @Sean_OConnell. ReelBlend cohost. A movie junkie who's Infatuated with comic-book films. Helped get the Snyder Cut released, then wrote a book about it.
Your Daily Blend of Entertainment News
Thank you for signing up to CinemaBlend. You will receive a verification email shortly.
There was a problem. Please refresh the page and try again.