Neighbors 2 Trailer Teaser Has Seth Rogen Freaking About Too Much Sexiness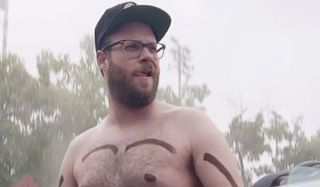 The success of Neighbors back in 2014 meant that a sequel to Seth Rogen and Zac Efron's comedic tussle was always going to happen. Grossing $270 million from an $18 million budget does that. So when it was eventually greenlit, moviegoers weren't surprised but we're still intrigued by how the follow-up will evoke the aura of the original while also being unique. The first look at Neighbors 2: Sorority Rising suggests that they've found the perfect balance, with Rogen bringing the funny and Efron showing off his perfectly chiseled body, which will immediately please fans of both. You can enjoy the trailer teaser below.
Neighbors 2: Sorority Rising's first full trailer will actually arrive tomorrow, and will no doubt give us a more in depth look at the dynamic that will exist between Seth Rogen, Rose Byrne, Dave Franco, and Zac Efron, as well as a slew of newcomers.
Neighbors revolved around Rogen and Byrne's Mac and Kelly Radner, a married couple trying to raise their new born child in their quaint suburban neighbourhood. The Zac Efron and Dave Franco led Delta Psi Beta fraternity then moves in next door, which leads to comedic hijinks that quickly spiral out of control and become increasingly erratic.
The sequel, Neighbors 2: Sorority Rising, sees Mac and Kelly Radner partnering with Efron's Teddy and Franco's Pete as they battle a group of sorority sisters that move into a neighboring house. This group of sorority girls includes Chloe Grace Moretz, Beanie Feldstein, and Kiersey Clemons. The comedy has also made sure to have the supporting talent of Lisa Kudrow, Ike Barinholtz, and Carla Gallo return, while Billy Eichner and Selena Gomez will be involved in some capacity too.
There are plenty of reasons to believe that Neighbors 2: Sorority Rising will at least match, maybe even surpass, the enjoyably bawdy humor of the first film. Chloe Grace Moretz will undoubtedly be on a mission to prove that her more quaint and childlike performances are now a thing of the past. Meanwhile, Seth Rogen will want to try and surpass the $270.6 million box office take of his highest ever grossing film.
The additions to the cast, as well as the fact that the main players are all returning, will hopefully mean that it picks up immediately from where its predecessor left off. It's also promising that director Nicholas Stoller (Forgetting Sarah Marshall) is back in the director's chair. He also co-wrote the script alongside the writing team from the original, Andrew J. Cohen and Brendan O'Brien, while Seth Rogen and his writing partner Evan Goldberg added their own touches to the screenplay.
While the teaser trailer hardly gives us any indication of what exactly will be going on in Neighbors 2: Sorority Rising, it at least shows us that Seth Rogen will be hilariously out of his element, just like in the original. We'll see if it's anywhere near as funny when Neighbors 2: Sorority Rising is released on May 20, 2016.
Your Daily Blend of Entertainment News
Thank you for signing up to CinemaBlend. You will receive a verification email shortly.
There was a problem. Please refresh the page and try again.