Neil Patrick Harris Talks About His A Very Harold And Kumar Christmas Role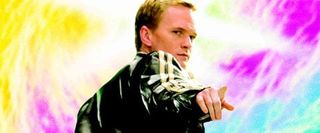 I remember it distinctly. It was the summer of 2004 and I was in Boston when a few friends and I headed to the movie theater to see the new stoner comedy Harold and Kumar Go To White Castle. Towards the middle of the film the duo pulls over to pick up a hitchhiker walking along the side of the road. The stranger gets into the backseat of the car, Harold and Kumar look at each other, and, almost in unison with Kal Penn, I whispered, "Is that Neil Patrick Harris?" Thus was born one of the greatest cameos of all time as the former Doogie Howser star proceeded to hump the driver's seat, steal the car and do coke off of some stripper's tits. In the year's since NPH has become a cultural icon, starring as Barney Stinson on the hit show How I Met Your Mother, starring in multiple films, hosting both the Tony and Emmy awards, and reprising his role as "Neil Patrick Harris" in Harold and Kumar Escape From Guantanamo Bay. Now the third film in the franchise, A Very Harold and Kumar Christmas 3D, is set to arrive this winter and it would seem that the envelope is being pushed even further.
Earlier today I attended the junket for the upcoming Smurfs movie and while speaking with Patrick Harris I felt compelled to ask about the third installment. Before I could even ask my first question about the film, he was quick to mention that his material in the new film is quite dark. Asking him to expand on what he meant by that, he told me that he will be the host on Christmas special and will be high on crack (those familiar with this character know that this is not a euphemism). Talking about the overall tone of the film, Patrick Harris said, "I don't know what's going to happen. I think it's really funny. It's very stoner centric, so I think the 3D effects that they came up with were real specific, you know, eat a brownie, go see the film kind of stuff. But I'm rabid in this movie, so I don't know what people are going to think."
NPH also talked about the filming of the scenes and said that during his scenes he was given the freedom to do whatever he wanted and he was more than happy to take advantage. "The writers and directors always let me go and do my… they want me to go full tilt and they don't really direct me much, so it's up to me to just be as messy and wrong as I can be and I look at them afterwards and I think, 'You're not going to really use that take, are you?' 'We loved it! It's so crazy!' And I think, 'Oh no.' We'll see." While I didn't have the chance to dig for too many specifics, he does indeed have another in-person run in with the titular heroes, but sadly won't play a role in film's claymation sequence.
I can never get enough of the Harold and Kumar movies and the Neil Patrick Harris scenes are always highlights. In the first two movies there has been a sense of escalation, going from coke and strippers to mushrooms and whores. I can't wait to see what they have in store.
Your Daily Blend of Entertainment News
Assistant Managing Editor
NJ native who calls LA home and lives in a Dreamatorium. A decade-plus CinemaBlend veteran who is endlessly enthusiastic about the career he's dreamt of since seventh grade.