Nicholas Braun And Mackenzie Davis In Talks For Horror-Comedy Kitchen Sink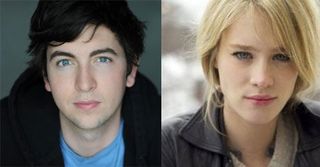 A common enemy often brings together unexpected allies. It was a common enemy of invading alien forces in Independence Day that united the world toward a common goal of saving Earth from the clutches of cruel extraterrestrials. And it's aliens that spur unlikely bedfellows in the upcoming horror-comedy The Kitchen Sink.
Sony, the studio that brought us Zombieland via Columbia Pictures, is looking to dive back into macabre humor with The Kitchen Sink, which focuses on two teens who enlist vampires and zombies to aid humanity in fighting off alien invasion. Sure, it sounds insane, but if aliens wipe humanity out, ask yourself, what would vampires and zombies have left to feed on? Hm. This sounds a tenuous truce at best.
Oren Uziel, who penned the buzzed about sci-fi script The God Particle, wrote the screenplay; Robbie Pickering will direct, making this monster-stocked comedy his follow-up to the shocking yet celebrated dark comedy Natural Selection. As to who will star, THR reports rising talents Mackenzie Davis and Nicholas Braun are in talks.
Davis is a newcomer who only made her screen debut last year with a role in the acclaimed indie drama Smashed, which Sony Classics distributed. Now, her turn in the indie drama Breathe In is earning her buzz at Sundance. It looks like Sony wants to get a hold of this intriguing new ingénue while the getting's good!
But Braun is definitely the better known of the pair. To date he played an oversexed high schooler in Red State, a duplicitous alien in The Watch, and Ponytail Derek in The Perks of Being a Wallflower. Still, since it looks like he is in negotiations for the male lead of The Kitchen Sink, this could prove a major opportunity for Braun. Just think what Zombieland did for Jesse Eisenberg, or Emma Stone for that matter.
Staff writer at CinemaBlend.
Your Daily Blend of Entertainment News
Thank you for signing up to CinemaBlend. You will receive a verification email shortly.
There was a problem. Please refresh the page and try again.