Nicolas Cage Will Lead Reboot Of The Christian Left Behind Series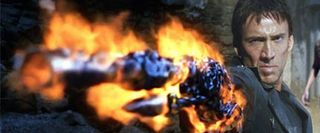 Nicolas Cage, the Oscar winner and famous crazy person, has spent a solid 10 years of his career being completely unpredictable, taking on only the movies that seemed the most unlikely, the wildest, the most doomed for obscurity if it weren't for his name attached. But I truly, truly don't think he's ever surprised us as deeply as he has today, with reports that he's set to lead a reboot of the Left Behind series.
Yes, the same Left Behind series that one starred Kirk Cameron, the same Left Behind series based on the bestselling Christian books, about what happens when the righteous are brought up to heaven in the Rapture and the rest are, ahem, left behind on earth. A handful of survivors immediately convert to Christianity and begin to fight off the series villain, Nicolae Jetty Carpathia, who is in fact the Antichrist.
According to Variety the new film is budgeted at around $15 million, which is a fraction of the amount you need to tell an enormous apocalypse tale, but still a good amount more than the reported $4 million for 2001's Left Behind: The Movie, which starred Kirk Cameron. The project will be the first effort from Stoney Lake Entertainment, founded by Paul Lalonde, who has experience in the extremely profitable realm of films aimed at Christian audiences.
What's unclear in this news is whether Cage is in talks to play the hero-- a guy crusading against the devil's takeover-- or the devil himself, which is the role i imagine he's better suited for. I'm also unsure how audiences might respond to Cage in a heroic role, given that his character Ghost Rider is literally employed by Satan, and Cage plays the role with relish. Cameron, on the other hand, is a devout Christian who brought real passion to the films, for better or for worse. Can Cage really fill that mantle for the Christian audiences who want to see this franchise's return?
Your Daily Blend of Entertainment News
Staff Writer at CinemaBlend