Ninja Turtles Reboot Shuts Down Production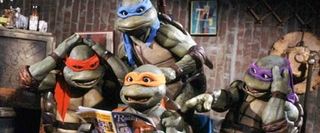 Even with the mighty power of Michael Bay and his Platinum Dunes production company behind it, Paramount's planned reboot of the Teenage Mutant Ninja Turtles franchise isn't quite strong enough to go into production. Citing script problems, Paramount has shut down production on the film, which was in pre-production up in Vancouver. According to THR, the planned release date of December 2013 has been shifted to May 2014, though the message that went out to those working to prep the film said the work stoppage was "indefinite," which gives us no idea of how permanent that May 2014 date might be.
Jonathan Liebesman (Battle: Los Angeles, Wrath of the Titans) had been set to direct the film with Bay and the Platinum Dunes team producing. The project had already drawn plenty of geek wrath thanks to Michael Bay's glib comments that the turtles would now be "from an alien race… tough, edgy, funny, and completely lovable, which then led to a title change that dubs the reptiles simply Ninja Turtles. Bay remained defiant throughout, telling fans that the turtles "are exactly the same," and promising that Liebesman was "NOT GOING TO LET YOU DOWN." (those caps are his, not mine)
Clearly somebody at Paramount was letting us down, though, and hopefully we can be grateful to the person at the studio who was willing to shut it down and lose a major holiday tentpole next year so they could get it right. After all, Paramount has recently learned their lesson about going into production without a solid script, going back for seven weeks of reshooots on the expensive zombie drama World War Z, and hiring Damon Lindelof to rewrite the film's ending. Clearly they're trying to avoid the same mistakes on Ninja Turtles, but right now it's unclear how much of the original production team will stay on board, or what exact changes they'll be making.
Staff Writer at CinemaBlend
Your Daily Blend of Entertainment News
Thank you for signing up to CinemaBlend. You will receive a verification email shortly.
There was a problem. Please refresh the page and try again.