Michael Bay's Teenage Mutant Ninja Turtles Gets New Title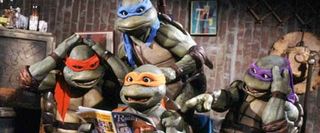 If you hold a special place in your heart for the pizza-munching sewer-dwellers known as the Teenage Mutant Ninja Turtles, chances are you've heard Michael Bay is producing a reboot wherein the high-kicking, wise-cracking team will no longer be mutants transformed by some strange and secret green ooze, but aliens. (Yes, aliens.) You may also be aware that Bay doesn't care what you think about it, because he insists his team is building, "a richer world," for the Turtles that is supported by co-creator Peter Laird. I'm sorry to admit, I'm here to deliver the latest turn of the blade from Bay's Platinum Dunes to TMNT fans.
Bleeding Cool has uncovered that the newest Teenage Mutant Ninja Turtles movie will be dropping "teenage" and "mutant" from the title, being called simply Ninja Turtles. While it's apparent Bay's take makes the word "mutant" untenable, a secretive source explains the name change "seems to be driven by marketing. Think of John Carter and how Disney wouldn't allow for a title with either 'Princess' or 'Mars'." Obviously with Disney admitting HUGE losses on John Carter, it's not the best inspiration for titling advice, so is it possible this in fact has more to do with Bay's "richer world?"
Funded by Paramount and Nickelodeon and produced by Bay, we can presume Ninja Turtles will be a big-budget PG-13 adventure full of special effects, some of which Bay declares will be incredibly real looking alien turtles. While Nickelodeon is, of course, known for family-friendly fare, they've hired Jonathan Liebesman, helmer of Wrath of the Titans and Battle Los Angeles, to direct, which leads me to suspect the more humor-driven aspects of the Teenage Mutant Ninja Turtles franchise will be abandoned along with their identities as mutants - and possibly even teenagers. Far from the spirited adventures with a dark edge we remember, it's looking more and more likely that Bay will try to force in more edge and force out any semblance of goofiness. It's hard to imagine how Michelangelo fits into this proposed new world at all.
Staff writer at CinemaBlend.
Your Daily Blend of Entertainment News
Thank you for signing up to CinemaBlend. You will receive a verification email shortly.
There was a problem. Please refresh the page and try again.