Noah Was Probably Hoping To Earn More Awards Than This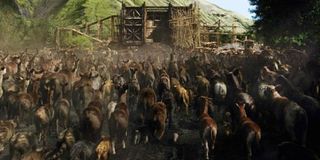 When Darren Aronofsky decided to use the Bible as the source of inspiration for his follow-up to the Academy Award-winning Black Swan, many suspected Noah would be the kind of biblical epic that could well sweep the Oscars in 2015. But reviews for Noah have been mixed. And when it comes to the brewing Oscar talk, the title's largely been left out. Still, there is one award that Noah's been given that few may have predicted.
The Humane Society of the United States recently announced that Darren Aronofsky will be honored with their inaugural Humane Filmmaker award at the organization's "To the Rescue! New York 2014" benefit gala on Friday, November 21 at Cipriani in New York City. How did Aronofsky get singled out for this history-making award? By choosing to fill Noah's ark with CGI animals in lieu of live ones. The Human Society has decided that this showed leadership in the efforts to protect animals, and so this animal rights group is happy to sing Aronofsky's praises.
As for Darren Aronofsky, he issued this statement:
The treatment of animals in filmmaking became a hot button issue last Fall when THR reported that one of the live tigers used in the making of Life of Pi "damn near drowned." Notably, Life of Pi also made use of computer graphics to create some of the tiger scenes (though their VFX contracts caused other controversies.) But on-set monitor Gina Johnson, employed by the American Humane Association, left that organization after e-mails surfaced, revealing she'd been covering up an accident that nearly cost a tiger called King his life.
When it comes to Noah it not only made moral sense that Darren Aronofsky would favor CGI animals, it made logistical sense. Can you imagine the kind of animal wrangling that would be required for the massive amount of creatures depicted in the biblical drama? Not to put it too lightly, it would take a miracle not to have a feeding frenzy on your hands.
Your Daily Blend of Entertainment News
Staff writer at CinemaBlend.