Nolan Explains The Dark Knight Rises 8-Year Time Jump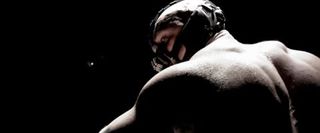 It was a tidbit of information that Christopher Nolan oh-so-casually dropped to Empire Magazine, but one that was immediately heard 'round the world: "Our story picks up quite a bit later, eight years after The Dark Knight." Wait, what? Suddenly our expectations of The Dark Knight Rises were turned out their ear-- no Batman in exile, no Gotham recovering from the death of Harvey Dent. We were moving on past all of that, into a future that suddenly seemed full of limitless possibilities.
Presumably that's exactly what Nolan was going for with the time jump, and talking to Hero Complex he explained a little more about what he hopes to accomplish with the big shift. He's not revealing any plot details, of course, but in his own roundabout way he dropped a number of hints:
That quote is just one part of a much larger piece about The Dark Knight Rises, in which Nolan explains how they shot the aerial sequence featured in the prologue running on IMAX screens this weekend (you can read more about that here) and describes Bane as "a classic movie monster" in a way. As usual, Nolan isn't revealing details about the film, but the thoughtful way he discusses things as small as the response of fans to the movies indicates how careful the man behind the Bat is about every decision.
The Dark Knight Rises is coming to theaters on July 20 next year, and despite some problems in the prologue running this weekend, anticipation for the movie should only be getting even higher. Honestly, I don't think I want to know exactly why they've jumped the story forward 8 years, or any more details about the plot. It's more fun to walk into the movie and put yourself entirely in Nolan's hands-- in the Batman movies at least, he hasn't led us astray yet.
Staff Writer at CinemaBlend
Your Daily Blend of Entertainment News
Thank you for signing up to CinemaBlend. You will receive a verification email shortly.
There was a problem. Please refresh the page and try again.