Noomi Rapace Cast As Female Lead in Sherlock Holmes 2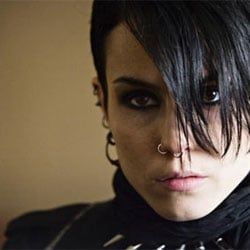 The Girl With the Dragon Tattoo star and hot Hollywood property Noomi Rapace has landed her first English-language role in Sherlock Holmes 2. What's more, the Swedish actress has nabbed the female lead in the sequel, according to THR.
Rapace's casting in Sherlock 2 is the first role to be clinched out of her trip to Los Angeles last month, where she was said to be fielding offers from top producers. Info is scarce on who she'll be playing in the probable blockbuster, but the words "French gypsy" were squeezed out of inside sources. That's actually enough to satisfy me. In the seedy 19th century Britain inhabited by Mr. Holmes (and Robert Downey Jr., for that matter), everyone must be on their toes and teeming with mischief and personal agendas; a French gypsy would more than hold her own. And Rapace could have that Marion Cotillard-quality of exotic foreigner with integrity (because she actually is a foreigner).
With Rapace inheriting the female lead from the hard-working but underwhelming Rachel McAdams, this cast could be in for an upgrade. McAdams just reminded me too much of Cameron Diaz's pickpocket from Gangs of New York: although they played their sly female rogues fairly well, they never quite convinced us they were a living, breathing part of that grungy world. Plus, if rumors hold and Daniel Day-Lewis is cast as Moriarty, this could be a Holiday movie with an unusually distinguished shadow.
Your Daily Blend of Entertainment News