Now Streaming: Netflix Instant Alternatives To Lucy, Magic In The Moonlight & Guardians Of The Galaxy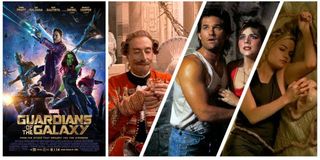 With so many titles to choose from, Netflix Instant's library can be overwhelming. So we bring you this biweekly column as a tool to cut through the clutter by highlighting some now streaming titles that pair well with the latest theatrical releases.
Looking to Lucy, Magic In The Moonlight and Guardians Of The Galaxy for inspiration, we've pulled together a selection of female-fronted adventures, old school romances, and totally weird action movies.
Lucy
Scarlett Johansson stars as the titular everywoman who gains incredible power after an accidental overdose of a new party drug. Morgan Freeman, Min-sik Choi, and Amr Waked co-star; Luc Besson directs. Read our review here.
For more ambitious action adventures fronted by fierce females, check out this trio that includes vicious assassins, a high-kicking karate kid, and a record-breaking solo sailor.
Kill Bill: Vol. 1 (2003) Uma Thurman stars as The Bride, a relentless assassin who seeks vengeance on her old employer and colleagues after they try to kill her on her wedding day. Kill Bill: Vol. 2 is also streaming. Lucy Liu, Vivica A. Fox, Daryl Hannah, and David Carradine co-star. Quentin Tarantino directs.
The Next Karate Kid (1994) In the fourth and final installment of The Karate Kid series (pre-reboot), Hillary Swank stars as an angry Boston teen who could use some crucial lessons with iconic karate instructor Mr. Miyagi (Pat Morita). Christopher Cain directs.
Maidentrip (2013) For something different, try this documentary that follows 14-year-old Laura Dekker on her record-breaking quest to travel around the world on a solo two-year sea voyage. Jillian Schlesinger directs.
Magic In The Moonlight
Woody Allen returns to theaters with a romantic comedy set in 1920s France that focuses on a skeptical magician who crosses paths with enchanting mystic. Colin Firth and Emma Stone star. Woody Allen directs. Read our review here.
For more romance with an old-school spin, indulge in this selection that boasts a modern fairytale, a cheeky buddy-comedy, and a seminal classic.
Penelope (2006) Christina Ricci stars as a smart and warm heiress who has it all--including a curse that's given her a pig-nose. The curse promises she'll look this way until one of her fellow blood blues loves her, and so begins a romantic adventure that includes a tenacious tabloid reporter, an overprotective mother, a gambler with a heart of gold. James McAvoy, Catherine O'Hara and Peter Dinklage co-star; Mark Palansky directs.
Miss Pettigrew Lives for a Day (2008) This charming rom-com has been criminally under-seen and unsung. Frances McDormand stars as Miss Pettigrew, a woman of principles who can't keep a nannying job despite her best efforts. Broke and desperate, she schemes her way into a posh position as the personal assistant to an American ingénue. Their introduction begins a day that will change both of their lives forever. Amy Adams, Lee Pace, and Ciaran Hinds co-star; Bharat Nalluri directs.
His Girl Friday (1940) Rosalind Russell stars as ace reporter Hildy Johnson, who is on the brink of leaving her professional life behind to marry a sweet but bland businessman. But not if her editor/ex-husband played by Cary Grant has anything to do with it! Howard Hawks directs.
Guardians of The Galaxy
Director James Gunn brings loads of flash and camp to the Marvel universe with this sci-fi adventure about a motley crew of heroes from all across the Universe. Chris Pratt, Vin Diesel, Zoe Saldana, Dave Bautista, and Bradley Cooper star. Read our review here.
Rather than listing Netflix's loads of superhero movies, we're focusing on adventures that have a clear auteur touch. So if you like your adventures with loads of personality, gonzo production designs, and deeply weird characters, you'll relish these purposely peculiar picks.
The Adventures of Baron Munchausen (1989) Writer-director Terry Gilliam weaves together a bonkers adventure from the novel of the same name. John Neville stars as the titular 18th-century German aristocrat who tells tall tales that are beautifully brought to life by Gilliam's distinctive and deranged style. Eric Idle, Robin Williams, Umar Thurman, Sarah Polley and Oliver Reed co-star.
Big Trouble in Little China (1986) Kurt Russell stars as truck driver Jack Burton, who is called in to save the day when his friend's fiancée is kidnapped by a band of bandits bound for San Francisco's Chinatown. Little does Burton know that this is no typical kidnapping, and he's headed for a showdown with an ancient sorcerer. Kim Catrall, Dennis Dun, James Hong, and Victor Wong co-star; John Carpenter directs. Director:
eXistenZ (1999) In this bonkers bit of body horror, Jennifer Jason Leigh stars as game designer whose life is threatened by assassins. Though she's survived, her latest virtual reality project may have been damaged, so she must dive into it with a marketing trainee--whatever the costs. Jude Law, Ian Holm, Willem Dafoe, and Sarah Polley co-star. David Cronenberg directs.
For even more selections, check out our Now Streaming archive.
Staff writer at CinemaBlend.
Your Daily Blend of Entertainment News
Thank you for signing up to CinemaBlend. You will receive a verification email shortly.
There was a problem. Please refresh the page and try again.