Now Streaming: Netflix Instant Alternatives To Total Recall, The Bourne Legacy And 2 Days In New York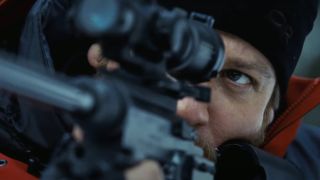 (Image credit: Universal Pictures)
Looking for something to watch from the comfort of home, but feeling spoiled for choice with Netflix Instant's expansive library? Well, we're here to help. Biweekly we break down which streaming titles serve as the best pairings to the latest theatrical releases, so you can double your pleasure without doubling its price tag.
This week, in the spirit of Total Recall, The Bourne Legacy, and 2 Days In New York, we've gathered a selection of stellar sci-fi, spectacular spy tales, and charming stories of love set in New York City for your enjoyment.
Total Recall
Colin Farrell stars in the latest movie adaptation of Philip K. Dick's short story "We Can Remember It for You Wholesale" as a happily married, blue-collared man whose life is thrown into a mind-bending spin when he attempts to take a virtual vacation and discovers he's a spy. Kate Beckinsale and Jessica Biel co-star; Len Wiseman directs.
The sci-fi genre allows audiences to tap into their imaginations by reconsidering our past and fixating on our—often-bleak—futures with a tweak of hyped up technology. Pairing this with plenty of action has made for some thoroughly thrilling adventures, three of which we've selected below that range from a tale of patriotic superhero to story of a tormented time traveler and an epic about a quipping cyborg.
Captain America: The First Avenger (opens in new tab) (2011) Chris Evans stars Steve Rogers, a noble young man who has dreams of becoming the ultimate soldier. While his scrawny frame may hold him back, his never-say-die attitude catches the eye of a scientist who can use a new secret formula to make him the hero America needs to conquer the Nazis, and a scowling villain hidden in their ranks known as Red Skull. Stanley Tucci, Hugo Weaving and Natalie Dormer co-star; Joe Johnston directs.
12 Monkeys (opens in new tab) (1995) Bruce Willis stars in this mind-bending sci-fi thriller, inspired by Chris Marker's seminal short film La Jetee (viewable here.) Set in the not so distant future where humanity has been forced underground following a massive plagued that's killed much of the world population, the story begins with Cole (Willis), a battered prisoner who volunteers to do reconnaissance for a pack of strange scientists, being shuttled back in time to uncover how the outbreak began. While he is at first dedicated to his quest, Cole soon begins to fall in love with this less deadly time and the lovely Kathryn Railly (Madeleine Stowe), and so begins to look for a way to escape his future. Brad Pitt co-stars; Terry Gilliam directs.
The Terminator (opens in new tab) (1984) Arnold Schwarzenegger fronts this movie that made him a legend. Set in 1984, this burly Austrian plays a merciless cyborg that travels back in time from a dystopian future where man and machine battle for control of the planet. His mission: to terminate Sarah Connor (Linda Hamilton) whose unborn son is destined to become the leader humanity needs in its darkest hour. Michael Behn co-stars; James Cameron directs.
The Bourne Legacy
Inspired by the spy novels of Robert Ludlum, Jeremy Renner takes up the Bourne franchise as Aaron Cross, a Treadstone agent whose life is in danger because of Bourne's rebellion. Forced to use the skills he's been taught against those who've trained him, Cross must battle his way out of the secret government group's grasps in a bid for anonymity that could save his life. Rachel Weisz and Edward Norton star; Tony Gilroy directs.
If the latest Bourne adventure has you primed for more tales of dashing men, espionage, action and intrigue, then check out the titles below which tackle the spy genre with wildly different results, ranging from stern drama to wacky comedy to brutal horror.
The Hunt for Red October (opens in new tab) (1990) Based on the spy novel of the same name by Tom Clancy, this Oscar-winning drama stars Alec Baldwin as CIA analyst Jack Ryan, whose tasked with saving the U.S. from nuclear attack when a Russian submarine captain (Sean Connery) breaks ranks in what could be a bid to start World War III. Sam Neill and Tim Curry co-star; John McTiernan directs.
OSS 117: Cairo, Nest of Spies (opens in new tab) (2006) Oscar-winner Jean Dujardin stars in this French farce that plays the spy genre for plenty of laughs. Secret agent OSS 117 (Dujardin) is a slick ladies man, but clueless spy who is on the search for an MIA colleague and a missing Russian cargo ship out of Cairo. It's a blend of bubbly lunacy, whimsy and wit that's sure to charm and entertain. The Artist's helmer Michel Hazanavicius directs.
I Saw the Devil (opens in new tab) (2011) Be warned, this pick is not for the faint of heart. This crime thriller out of Korea brings gore and movie violence to a terrifying new level as it unfolds the story of a secret agent (Byung-hun Lee) seeking revenge against the serial killer who viciously murdered his fiancée. Oldboy's Min-sik Choi co-stars as the killer, and his battles with Byung-hun are alternately exhilarating and deeply disturbing. If you're a fan of gore, there's plenty in store. But for those who like to delve deep into film's meanings, there's a subtext about movie violence that could well linger longer than the nightmarish images within. Ji-woon Kim directs.
2 Days in NY
Julie Delpy directs and stars in this cheeky sequel to her celebrated indie rom-com, 2 Days in Paris, (opens in new tab) which is currently streaming. Here she reprises her role as Marion, who has moved on from Jack, and is now living happily with radio DJ Mingus (Chris Rock), well, that is until her French family comes for a visit. Sibling rivalries, buried resentments and culture clashes stack up, forcing Marion and Mingus to a crucial moment in their own relationship. Yet for all the turmoil, this romance is still insanely funny.
There's just something about New York. It's a crowded place of cacophony and controversy, yet it is also the setting for countless movie romances. So revel in the joys found in the five boroughs with three deeply sweet films about love and the Big Apple.
The Seven Year Itch (opens in new tab) (1955) Marilyn Monroe became an icon with this cheeky rom-com about a family man left to fantasize about infidelities why his wife and kids go on vacation. This is the flick where she stood over a blustering subway grate, which blew her white dress tantalizingly about and made her a sex symbol for all time. Tom Ewell plays her flustered and oft-fantasizing neighbor who flirts with this bubbly bombshell with a breathy baby talk tenor. Though nearly 60 years old this comedy is still as enticingly hilarious as it is insightful. But you should expect nothing less from writer-director Billy Wilder.
Arthur (opens in new tab) (1981) This Oscar-winning rom-com is about getting caught between the moon and New York City, in the figurative sense. Dudley Moore stars as lovable drunkard Arthur, a millionaire who has far more money than ambition or sense. He's a slurring goofball who is arranged to marry a posh but frigid heiress, when he meets a spunky working class girl (Liza Minnelli exuding quirk and charm) who knocks him head over heels. But if he marries her, he risks being cut off. What's a high society drunk to do? John Gielgud co-stars; Steve Gordon directs.
New York, I Love You (opens in new tab) (2008) There's something for everyone in this star-stuffed series of vignettes spun-off from Paris, je t'aime. Directors ranging from Mira Nair to Brett Ratner and Yvan Attal display what they love about the city that never sleeps through various vignettes about romance set within its landmark-littered borders. Bradley Cooper, Natalie Portman, Shia LaBeouf, and Justin Bartha co-star along with many, many more.
Your Daily Blend of Entertainment News
Staff writer at CinemaBlend.