Olivia Thirlby Joins Josh Gad And Kevin Hart For Wedding Day Comedy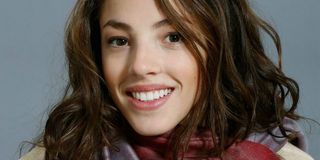 You loved her in Juno. You forgot she was in Dredd, and now the charming Olivia Thirlby is set to dazzle in the Screen Gems/Miramax comedy formerly known as Best Man Inc. The Wrap reports Thirlby joins a cast that includes Book of Mormon star Josh Gad, outrageous stand-up comedian Kevin Hart, The Big Bang Theory's Kelly Cuoco and Affian Crockett, who most recently hit theater screens in the hit horror spoof A Haunted House.
Penned by The Break-Up co-writers Jeremy Garelick and Jay Lavender, the comedy centers on an entrepreneur with a peculiar business model. Jimmy (Hart) is a professional Best Man, renting out his services to lonely men in need. What's that? You don't have a male friend or relative close enough to stand by you on the most important day of your life? Call Jimmy! That's what an awkward groom-to-be named Doug (Gad) does. But this poor schlub, who desperately wants the perfect day for his self-centered bride (Cuoco), also needs a fleet of nine groomsman, all of whom need to fake a suitably friendly relationship with Doug. It's the biggest job Jimmy's handled yet, and surely hijinks will ensue. Crockett plays one of these faux groomsmen, and for her part Thirlby has signed on to play the bride's sister, who complicates matters by developing a crush on Best Man Jimmy.
It's unclear at this point whether Thirlby's character is meant to be the kind of sweet girl who will inspire Hart to do the right thing (whatever that may be in this high concept context), or if she'll play the part of a desperately clingy girlfriend/obstacle like Isla Fisher did in Wedding Crashers. At the very least let's hope this isn't a role that gives her little more to do than smile. She has a great smile, but she's shown through Juno, Nobody Walks and New York, I Love You she's more than just a very pretty face.
Garelick, who is credited with contributing the screenplays for the in-development Baywatch movie and the Police Academy reboot, will make his feature directorial debut on this film, which according to IMDB is currently called The Golden Tux. The filmmakers's only previous screen credit as a director was earned with the 12-minute short film "Is This Your Mother?" which screened at the Brooklyn Film Festival in 2002. From these creds, it's hard to know where our expectations should be for this comedy that sounds like Hitch meets Wedding Crashers. So for now, let's revisit the trailer for The Break-Up, and wonder what comes next.
Your Daily Blend of Entertainment News
Staff writer at CinemaBlend.