Olivia Williams Signs On To The Seventh Son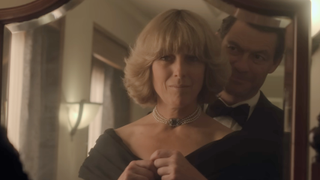 (Image credit: Netflix)
Has the end of the Harry Potter film series left you in movie magic withdrawal? Well, that's a craving that Legendary Pictures is looking to cash in on with The Seventh Son, a family-friendly fantasy adventure based on Orson Scott Card's magic-packed YA novel that centers on the seventh son of a seventh son who is destined for sorcery. Looking to build a possible money-printing franchise of their own, the film's producers have been carefully selecting a solid cast that includes Ben Barnes (The Chronicles of Narnia: The Voyage of the Dawn Treader), Jeff Bridges, and Julianne Moore. Now Deadline reports that the lovely Olivia Williams is the latest to sign on to The Seventh Son.
Williams, best known for her role as the central figure in Rushmore's May-December-squared love triangle, will make a major mark at the movies this year. She's just wrapped on Hyde Park on Hudson, in which she portayed Eleanor Roosevelt opposite her Rushmore paramour Bill Murray, and will also appear in Joe Wright's highly anticipated adaptation of Anna Karenina, playing Countess Vronskaya. Unfortunately, there's no word on what role Williams will tackle in Seventh Son, but we do know Moore will play Mother Malkin, while Bridges will play Master Gregory and Barnes will take on Tom. Who will play the feature's title role is still a mystery.
Notably, The Seventh Son is the first book of The Tales of Alvin Maker, a six books series that is still growing. At this stage in the film's development, it's not entirely clear to us how the filmmakers will break down the Alvin's arc for the movie adaptation. However, the 1700s setting and promise of ghosts, witches and binding boggarts, is sure to attract fantasy fans, while the ever-improving cast inspires hope for something sensational.
Your Daily Blend of Entertainment News
Staff writer at CinemaBlend.