One Of The Beastie Boys Got Stoned And Auditioned For The Doors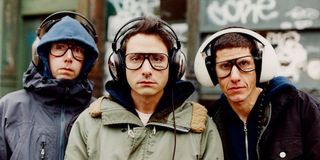 Though he is best known as one-third of hip hop group Beastie Boys, Adam Horovitz, aka Ad-Rock, has also maintained a sporadic acting career through the years. He's mostly appeared in smaller indie fare and offbeat comedies, but in 1990 he auditioned for a role in Oliver Stone's The Doors, and it did not go particularly well. It definitely sounds like it was Horovitz's fault, as he showed up intoxicated.
Talking to the New York Times about his upcoming role in Noah Baumbach's While We're Young, Horovitz shared his story about his brief meeting with the Natural Born Killers director, saying:
I'm going to go out on a limb here and say, even in Hollywood, and even in a movie about a hard partying band from the 1960s like the Doors, led by Jim Morrison, it's probably not the best idea to show up for what amounts to a job interview stoned out of your mind. I could be wrong, but that just seems like common sense. Morrison and company may have been all about drug and alcohol use, but if you're a musician trying to prove to the industry that you can act, maybe wait until after you meet the director. Once you've got the job, you can celebrate however you please.
This incident falls right in between the Beastie Boys classic 1989 album Paul's Boutique and their equally beloved 1992 offering Check Your Head. During this era, Ad-Rock and the rest of the group had more of a good time party vibe going on. This was still a few years before they adopted a more politically conscious stance and they were all about getting rowdy as opposed to campaigning for Tibetan freedom. During this time, Adam Horovitz probably would have fit into the actual movie just fine, though there is no word on what part he was up for.
Horovitz only has 14 acting credits on his resume, but they span 30 years, running from an appearance on The Equalizer in 1985 to While We're Young. My favorite of his films is still Roadside Prophets, where he plays a delicate, wounded slacker on a road trip with John Doe from legendary punk band X. Playing a mellow, stay-at-home-dad in Baumbach's latest is another illustration of how far he has come since penning ditties like "(You Gotta) Fight for Your Right (To Party)" and "Brass Monkey."
Your Daily Blend of Entertainment News
Thank you for signing up to CinemaBlend. You will receive a verification email shortly.
There was a problem. Please refresh the page and try again.