The One Weapon Batman Has That Can Slow Superman Down In Dawn Of Justice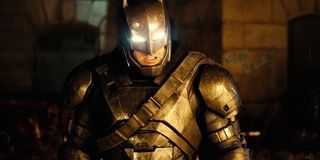 The greatest gladiator match in the history of the world is nearly here. God vs. man. Day vs…well, you've heard it all before. Unless you've been living under a rock for the past year, you've seen the footage of Batman v Superman: Dawn of Justice's fight between the two eponymous heroes. In order to face Superman on a more equal level, Batman will don that Dark Knight Returns-inspired armor, but it's going to take more than a giant boot to the face to beat the Kryptonian. To gain a real advantage, Batman's plan will involve Superman's primary weakness: Kryptonite.
While discussing part of the brawl between Batman and Superman, director Zack Snyder commented to EW about how the Man of Steel doesn't have to be as much of a "chess player" due to his powers. The Caped Crusader, on the other hand, takes precautions by setting traps around an abandoned stockyard, including "driving" a Kryptonite spear into the ground. Snyder continued:
The Kryptonite spear was rumored to be in Batman v Superman: Dawn of Justice last year, and it's apparently the weapon Batman is holding in one of the teaser trailer's shots. There was also a large chunk of Kryptonite seen in Lex Luthor's possession in the first full trailer, so obviously there's an ample supply of the green rock in the DCEU. It's still unclear whether Batman gets this Kryptonite directly from Luthor or from another source, but it's going to be enough to weaken Superman during their fight. Anyone who has read or watched a Batman story knows he's a master strategist, so despite his lack of powers, he often has battles planned out several steps in advance. Superman may have "might," but Batman's intellect can be just as helpful.
Originally introduced in the Adventures of Superman radio show, Kryptonite was added to the comic book lore in 1949 and has been a staple in the Superman mythology, also becoming a general pop culture term synonymous with any person's "weakness." In many stories, Batman also keeps Kryptonite on hand in the Batcave or a lead-lined pouch on his utility belt, although because he and Superman are allies at this point, it's kept mainly for if Superman ever goes rogue or is mind-controlled. No doubt Bruce will follow suit in the movie even after he and Clark shake and make up. If there's one thing you can always count on Batman to be, it's paranoid.
The battle between the Son of Krypton and Bat of Gotham will be seen when Batman v Superman: Dawn of Justice charges into theaters on March 25.
Your Daily Blend of Entertainment News
Connoisseur of Marvel, DC, Star Wars, John Wick, MonsterVerse and Doctor Who lore. He's aware he looks like Harry Potter and Clark Kent.