Online Star Wars 7 Fan Theories Are Totally Wrong, According To Oscar Isaac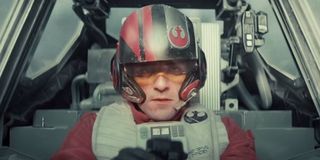 According to Oscar Isaac, we all have it wrong when it comes to the plot of Star Wars: Episode 7. While the first trailer gave us some clues into J.J. Abrams' first installment of the new trilogy, a bevy of sources have popped online with varying degrees of what the plot will be about. Apparently no one has gotten it right just yet.
Isaac, who'll soon be seen in A Most Violent Year and down the road as the title villain of X-Men: Apocalypse, admittedly can't reveal much about his involvement in the new Star Wars. However, he did speak a bit during an interview with Yahoo Movies to debunk all those rumors floating around.
One prevailing theory, which stemmed from a report at Badass Digest, stated that Star Wars: Episode 7 would begin with the floating, severed hand of Mark Hamill's Luke Skywalker before falling to the surface of a desert planet. Once there, John Boyega's Finn and Daisey Ridley's Rey were said to encounter it, leading them on a journey to track down the aging Jedi knight with Harrison Ford's Han Solo and Peter Mayhew's Chewbacca. It all did seem a bit too strange to be true, but it's unclear if Oscar Isaac was referring to this particular report in his response.
What we do know, though, is that Isaac will be playing an X-Wing pilot named Poe Dameron, an experience he calls "a dream come true." As he continued telling Yahoo:
It must be difficult for Oscar Isaac and the rest of the cast to keep such secrets from the public, as Abrams is notoriously secretive when it comes to his projects, even with the books he writes. (His latest, S., involved a scavenger hunt that spanned multiple cities.) But give Abrams especially precious cargo, like Star Wars, and he's keeping things even closer to the vest. More tidbits will be revealed in time as we get closer to the film's December 18, 2015 release date. Until then, feel free to dissect the trailer or our latest look at the Millennium Falcon as much as we already have.
Your Daily Blend of Entertainment News
Thank you for signing up to CinemaBlend. You will receive a verification email shortly.
There was a problem. Please refresh the page and try again.