Oscar Eye: 5 Reasons To Feel Optimistic About This Year's Awards Race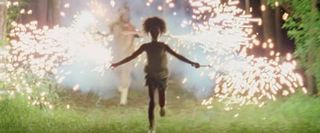 In just over a week the Oscar nominations will be announced, beginning what will actually be the most exhausting period of the season; with all the nominees known but six excruciating weeks left to wait until the ceremony, what exactly are we supposed to talk about in that time? Luckily for now, there's still a world of possibilities, and some surprisingly tight races masked behind the handful of films nobody can stop talking about.
It's a new year and a time for optimism, and since it's been a few weeks since we've checked in with this column, you might have all worn yourselves out reading Oscar hype elsewhere. So with just a week left to go before the nominations-- and final nominee predictions coming next week-- lets focus on the reasons to be optimistic about how this year's Oscar race turned out, and why even people who think that awards are meaningless ought to be proud about where things have gone this year.
Nobody is actually certain what will win Best Picture. Sure, there is a handful of strong contenders up top, with Zero Dark Thirty, Lincoln, Argo and Les Miserables all agreed to be leading the pack. But it's impossible for anyone to say with certainty what will actually win, which is a sharp contrast from the last few years, where you've either got one film running away with the entire season (The Artist, Slumdog Millionaire), or two films duking it out and leaving everyone else in the dust (The King's Speech vs. The Social Network, Avatar vs. The Hurt Locker). At this point you can have a strong hunch on what you think will win, but to promise certainty is idiotic. And not only that, but…
None of the contenders are embarrassing. Haters of Les Mis may argue with me on this, and I think Life of Pi is far more spectacle than story, but come on: we're just a year away from Extremely Loud and Incredibly Close's Best Picture nomination, and not much further removed from nods for The Reader, The Blind Side, or even Crash's win. There are years when movies marked Oscar Bait make it in by sheer force of will, regardless of quality. This year, all those films pegged as contenders from the very beginning actually had the goods to back it up. What a blessing.
Best Actress is a horse race with no loser. Conventional wisdom says that Jennifer Lawrence and Jessica Chastain will be duking it out for Best Actress, for wildly different performances in the wildly different movies Silver Linings Playbook and Zero Dark Thirty. More hopeful speculation suggests that the two ingenues could cancel each other out, leaving room for a shocker like Amour's Emmanuelle Riva to swoop in and take the prize. But after yet another year in which people falsely claimed it was a weak year for actresses, it's thrilling to see this much competition-- and like in Best Picture, a relief to know that the winner will be quality no matter what happens.
Wild, unlikely contenders are still in play. There are some performances you know will be given Oscar consideration before looking at them, like Daniel Day-Lewis playing Lincoln, or pretty much anyone in Les Mis. But then there's the likes of Nicole Kidman in The Paperboy, or Matthew McConaughey in Magic Mike or even Rachel Weisz in The Deep Blue Sea, performers in movies that seemed too weird or under-the-radar to get any attention, but who are now showing up among the predictions of many savvy Oscar followers. There's always room for a few wild cards in a given Oscar season-- and there's no guarantee that any of these actors will make it into the final list-- but this year seems especially open to out-there picks.
Nearly every category has the potential for surprise. Yes, some winners seem locked down-- Daniel Day-Lewis is practically guaranteed to win his third Oscar for Lincoln, that film's screenplay has a stranglehold on the Best Adapted category, and if Anne Hathaway loses Best Supporting Actress, she and the rest of the country will look as shocked as Fantine was to be fired in Les Miserables. But when it comes to the nominees, there's no locked down group of five for any category-- even Best Director, which is so crowded with previous winners like Steven Spielberg and Kathryn Bigelow and Tom Hooper and Ang Lee that it's hard to know which heavyweight will miss out. And in Best Supporting Actor things could get really interesting, with four previous winners-- Robert DeNiro, Alan Arkin, Philip Seymour Hoffman and Tommy Lee Jones-- seeming locked in place, but a wild fight for the fifth slot making anything possible.
Now on to the charts, where I've done some major updating and some bet-hedging in advance of making everything final next week.
Django Unchained was a major box office success after its Christmas Day release, even up against Les Miserables, but its mixed reviews and gleeful violence still make it a tough sell to the Academy in my mind-- it could have used the kind of long sit that helped Inglorious Basterds win over voters two years ago. I've kept it the second tier but moved up Silver Linings Playbook, which now seems to be the final film guaranteed a nomination no matter how many films ultimately make up the Best Picture class. Any of the five remaining films in the second tier could make it in to a group up to 10-- with, of course, room for a crazy surprise or two from the remaining crowd. I'm still guessing it's a group of 6 or 7, but I'm still totally unsure what those remainders might be.
During the podcast I recorded with The Film Experience more than one of us floated the idea that Michael Haneke could become a rare Lone Director, a helmer nominated for Best Director with a corresponding Best Picture nod for his film. I'm still not certain enough to predict that happening, but I do go back and forth thinking it's him or David O. Russell who will slip into that fifth slot. The other four, as ever, remain mortal locks.
To finally settle on a few more Mortal Locks, I've looked to box office. The success of Les Miserables over the holiday seems to solidify Hugh Jackman, and though Silver Linings Playbook remains smaller than it should be, Cooper's previous box office successes ought to tip the scales. And in figuring out whether Washington or Hawkes is the biggest lock here, I decided it was pure numbers-- Flight has made $92 million domestically, and The Sessions has made just $5.5 million. Hawkes could very well still make it in, but I think it's him battling Joaquin Phoenix for that final slot, and it's hard to gauge for certain who will slip through in the end.
In the last few days I've been hearing all kinds of crazy ideas about this category, as people try to figure out who other than Chastain and Lawrence are guaranteed to take up this category. Some think Naomi Watts is a guarantee right alongside them; others think it's Helen Mirren; plenty more, myself included, are mystified at the way Marion Cotillard keeps hanging in there despite Rust & Bone's low profile and language barrier. I'm still not entirely certain where I fall on all this, but I think it's mostly dogged optimism that keeps me hoping the category can include two French language performances plus who would be the youngest-ever Best Actress nominee. Helen Mirren's work in Hitchcock is so minor it would be a baffling inclusion, and I still think The Impossible hasn't made enough impact to push Watts through. But it might be wishful thinking. This category is a bear to figure out.
It was time to get a little realistic about this category and bump Arkin up to Mortal Lock, much as I would like his fine-but-unspectacular performance to get out of there and leave room for more contenders. I'm still thinking, though, that De Niro and Hoffman could possibly miss out, leaving room for wild cards like McConaughey or DiCaprio or even Eddie Redmayne to muscle their way in there. It's foolish to underestimate a voter's love of a good narrative behind a nomination, and with four previous winners seeming to crowd the category, they might be inclined to toss it to some newcomers instead. And if it winds up being a slate of four previous winners vs. one first-timer, no matter who that first-timer is, he could easily have the edge to win.
The category that's been driving me crazy all year has suddenly gotten exciting, with Nicole Kidman and Ann Dowd making late-breaking efforts to sneak into the category, even as Anne Hathaway continues to have the win all sewn up. I'm still not sure which final two will make up the category, though sensing a slowdown for The Master (which wasn't doing all that great to begin with) and Kidman's massive star power, it seems there is room for her to jump up, with god only knows who else joining her in there. I probably won't know for certain even when I make the final predictions. But hey, like I said up top, that's kind of what makes it exciting.
Staff Writer at CinemaBlend