Oscar Prediction Mania 08: Makeup, Costume and Art Direction Predictions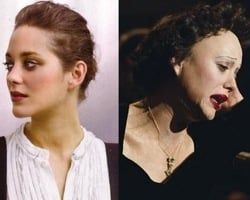 The funny thing about writing these Oscar prediction columns is that it's really the first time I've forced myself to sit down and make up my mind. I've been following the punditry intently, reading up on what all of those in the know think will happen, but I've always avoided coming up with what I thought myself. I'll get to the end of these paragraphs, after I've laid out my thought process, and only then will it become clear how the whole race looks to me. It's fun to do.
So today we're still with the technical awards, but this time it's all the stuff you can actually see. Those sumptuous costumes! That transformative makeup! And, of course, the breathtaking art direction. With a whole lot of period dramas and elaborate fantasies in the mix this year, there's a lot of worthy work to reward.
The Nominees: Costume Design
Sweeney Todd*
La Vie En Rose+
Atonement*
Elizabeth: The Golden Age
Across the Universe
These are all period dramas, which isn't necessarily rare but at least levels the playing field-- period dramas do overwhelmingly well in this category. The heavy-hitter here is Colleen Atwood, who designed the costumes for Sweeney Todd; she's won twice in the last six years. But her movie didn't become the Oscar contender people hoped it would be, and it could be overshadowed by that other movie with the dramatically beautiful dresses and many more nominations, Atonement. It could be in a similar boat as Elizabeth, which sports of lots of elaborate costumes but not much Oscar love. And then there's La Vie En Rose, which we'll discuss more later for its much-praised evocation of 1930's Paris and legendary singer Edith Piaf. Finally, who let Across the Universe into this category, unless we're counting puppet costumes? In the end I think Atwood and Sweeney can overcome Keira Knightley's green dress and Cate Blanchett's Elizabethan ruff. I mean, did you see that prosthetic in Sacha Baron Cohen's pants? Genius, my friends.
Will win: Sweeney Todd
Dark horse: Atonement
The Nominees: Makeup
La Vie en Rose
Norbit
Pirates of the Caribbean: At World's End
Yeah, I have no idea why there are only three nominees in this category either. And don't even get me started on "Oscar-nominee Norbit." Though the Pirates series has lost this award before, and has actually done some remarkable work with makeup, I can't see this award going to anything but La Vie en Rose. Just Google Marion Cotillard to check out the amazing transformation to turn the twenty-something actress into the middle-aged Piaf. Remember, it worked for turning Salma Hayek into Frida Kahlo back in 2002.
Will win: La Vie en Rose
Dark horse: Pirates of the Caribbean
The Nominees: Art Direction
There Will Be Blood
Atonement
Sweeney Todd
The Golden Compass
American Gangster
Again, it's the period films that tend to dominate in this category, and double points if you're also up for the big award of the night. That honor here belongs to both There Will Be Blood and Atonement, with Sweeney a decent contender given its other nominations. Both Blood and The Golden Compass took home awards in their respective categories with the Art Director's Guild, but it's just about impossible to imagine Compass beating out the more "serious" Oscar contenders. And as for American Gangster, well, something had to fill out the fifth slot. The smart money at the moment is on There Will Be Blood, both because nominee Jack Fisk is a veteran who's never been nominated and because it's a striking art design that looks unlike anything else that's ever really existed. Atonement and Sweeney are both gorgeous, but they fit into a somewhat established period/fantasy slot that Blood openly defies. Plus, remember that exploding oil derrick? Fisk is the guy who brought you that. Don't you want to say thanks?
Will win: There Will Be Blood
Dark horse: Sweeney Todd
OK, that's it for today! Tomorrow will be the last day of technical awards, but these are some of the most fun to discuss: cinematography, visual effects and editing. Yes, we will yet again be discussing Transformers as a serious Oscar contender. Stay tuned!
Staff Writer at CinemaBlend
Your Daily Blend of Entertainment News
Thank you for signing up to CinemaBlend. You will receive a verification email shortly.
There was a problem. Please refresh the page and try again.