The Oscars Will Be Streaming Online... But Not Until The Day After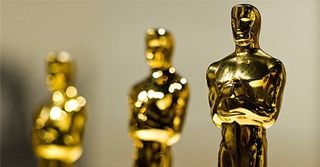 If you want to watch the Oscars as they happen tonight, you're going to have to turn on the TV-- the amount of money to be made off the awards means it will be a long, long time before they allow for livestreams. But if you wake up tomorrow morning and still want to relive all the moments, for the first time ever, the Internet is going to help you out. Tomorrow starting at 6 am EST, the full Academy Awards broadcast will be available to stream online, at ABC.com, Hulu and a handful of other places.
According to Deadline this is the first time a major TV awards show has been made completely available online, and it marks a huge step forward for the Academy, which just a few years ago would go out of its way to remove clips from acceptance speeches on YouTube. Clips from tonight's show will also go up on ABC.com pretty much instantaneously, and you can guarantee we'll be bringing them to you as well, amid the veritable flood of Oscar coverage we've got planned for the evening.
It's hard to imagine exactly who will be waking up at 6 am to watch the livestream of the Oscars-- if you're that invested in them, you're probably going to watch it while it happens, right? But having the whole thing available online will make it a lot easier for us to rewatch the best moments or reference them in articles. This feels like the Academy finally admitting that the Internet isn't a threat to the ubiquity of the Oscars, but a way to make it even more important by talking about it endlessly the day after... and truly, as long as they keep it online. Here's hoping for a show that's worth watching all over again the next day!
Your Daily Blend of Entertainment News
Staff Writer at CinemaBlend