Oscars: Watch One Director's Live Reaction To Getting Snubbed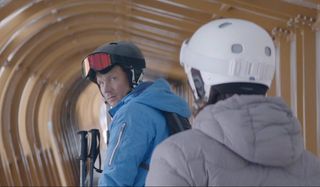 Every year some of the best films and performances get snubbed by the Oscars, but this year was particularly egregious. While Selma, with specific regards to Ava DuVernay and David Oyelowo, was barely given the time of day, the Foreign Language Film category saw another predicted contender locked out: Force Majeure. The Swedish film was critically acclaimed and made it into many critics lists of the "Best Movies of 2014," but it was totally ignored by the Academy. And its director was not happy about that…not one bit.
Like many of us, Ruben Östlund had his eyes glued to the big reveal of the 2015 Oscar nominations via live stream. Watching along with his Force Majeure producer Erik Hemmendorff, the two scoffed that it was now the second part of the announcements and the presenters hadn't even touched upon Foreign Language Films yet. "Foreign Film comes after Hairstyling," giggled Hemmendorff. Though, he knew something was up when Ida scored a nomination for Cinematography, stating that they essentially were "fucked."
Despite the jokes, the Swedish director broke down into a fit of cussing, shouting and eventually tears when he realized his film didn't make the cut. Though it's possible this could've been intended as a joke, it still makes us sympathize with his plight. As Östlund commented in the beginning of the video, we're all getting tired of seeing the same faces at awards shows, referring to how the same sorts of people are nominated time and again for the Oscars, instead of the underdogs. (An obvious exception is Boyhood, an indie film that stole the hearts of audiences everywhere.) For filmmakers less recognized by mainstream audiences, an award of this caliber could be the differences between continuing to create what they are passionate about and setting on something with more of a commercial appeal to pay the bills.
The ones who made it into the Foreign Language Film category of the Oscars were Ida, Laviathan, Tangerines, Timbuktu and Wild Tales. Along with these films and Force Majeure, there were nine total films that qualified for an Oscar nomination. The others were Corn Island, Accused and The Liberator. So, if it's any consolation, Östlund was not alone.
For those unfamiliar, Force Majeure follows a Swedish family spending a week at a luxury resort in the French Alps. At the first sight of an avalanche, the husband abandons his family in fright. Obviously, a rift forms between him and his wife upon his return and discovery that no one was hurt. It's a hilarious film and it even has a familiar face from Game of Thrones. (Kristofer Hivju, who plays that redheaded wildling under Mance Rayder's command.)
We feel for you, Östlund. But keep your head up!
Your Daily Blend of Entertainment News
Your Daily Blend of Entertainment News
Thank you for signing up to CinemaBlend. You will receive a verification email shortly.
There was a problem. Please refresh the page and try again.