Owen Wilson And Jackie Chan Will Reunite For Shanghai Dawn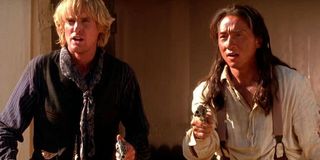 Shanghai fans, the wait is over. Owen Wilson and Jackie Chan are set to reprise their famous roles in the long-awaited third installment of the Shanghai franchise, Shanghai Dawn. Here are the latest details.
According to The Tracking Board, comedy duo Owen Wilson and Jackie Chan are officially on board for the newly-revived Shanghai Dawn, which is the sequel to Shanghai Knights and will be the third film in the Shanghai franchise. No doubt news of Shanghai Dawn will be exciting for fans of the previous Shanghai movies, as the long-overdue sequel comes nearly 12 years after the last film in the moderately successful series. We also know that Jonathan Glickman is on board to direct, however, there is no official word on who will pen the upcoming western comedy. Only time will tell, but it does raise an interesting question about why Alfred Gough and Miles Millar are not writing the film, given that they wrote the first two Shanghai franchise movies.
Despite changing directors between Shanghai Noon and Shanghai Knights from Tom Dey to David Dobkin, one of the constants that contributed to the box office success of the franchise was the writing. Writing partners Alfred Gough and Miles Millar — who famously co-developed the Superman inspired television show Smallville — are responsible for that. However, with the recent news breaking of Shanghai Dawn finally moving forward after all this time, and no official subsequent announcement about Gough and Millar returning the write the movie, this could lend to an entirely different kind of Shanghai movie. Or, there might just be a few contractual kinks that need to be worked out before MGM announces that the writing duo will once again take the helm of a Shanghai film.
Getting Owen Wilson and Jackie Chan back, though, helps tremendously. The last time we all saw Wilson and Chan as Roy O'Bannon and Chon Wang, respectively, was in 2003's Shanghai Knights. That sequel followed Wang and O'Bannon on a quest to exact revenge on the murderer who killed Wang's estranged father. The action-packed western comedy, which brought the characters to London, was the follow up to the prior Shanghai Noon, the first film in the franchise. Shanghai Noon centered on Wang, who was then an Imperial guard for the Forbidden City of China, and his attempts to rescue the kidnapped Princess Pei Pei in the frontier land of Nevada. And since he couldn't do it alone, he enlisted the help of a local thief, O'Bannon, whom he hilariously coerces with the promise of compensation. With a comedy franchise like Shanghai, it would be nice to get the original screenwriters back. But one thing is for sure, Owen Wilson and Jackie Chan will definitely make the script work.
Your Daily Blend of Entertainment News