Top 5: Owen Wilson Movies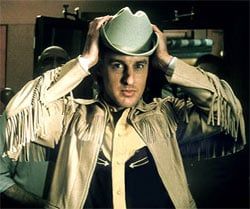 Born and raised in Texas, Owen Wilson moved to Los Angeles with his brothers Andrew and Luke in 1991 to make it big. Three years later, Owen did. In 1994 he collaborated with writer/director and friend Wes Anderson on the movie Bottle Rocket, which would later become a cult hit. Owen worked steadily from then on, with significant roles in major Hollywood blockbusters like The Cable Guy, Anaconda, and Armaggedon. He's since become a major Tinsletown star, and his incredibly easygoing style makes him impossible not to like.
His movies may not always be great, but Owen almost always is. Even in his worst clunkers, Owen delivers a good time. It's impossible not to love the Butterscotch Stallion. For now though forget the blemishes on his resume and take a look back at the best movies of Owen Wilson… so far.
TOP 5 OWEN WILSON MOVIES
5. Shanghai Noon (2000)
While Owen had been knocking around Hollywood movies for awhile by the time he showed up in as Jackie Chan's sidekick, Shanghai Noon is probably the first time mainstream audiences really stood up and took notice of him. It's also a lot of fun. Owen and Chan had great chemistry together and Wilson's aw shucks, slow-talking cowboy character was a perfect compliment to Jacki Chan's blazing fists of fury. The sequel turned out to be a big disappointment, and in the process I think a lot of people have forgotten just how much fun Shanghai Noon was; but as a light-hearted action movie and even as a pretty decent Western, Noon really works. As a way to wake up the world to just how cool Owen Wilson was, it turned out to be the perfect launching pad.
4. Cars (2006)
In Cars Owen Wilson provides the voice of the movie's star, a race car named Lightning McQueen. Owen's easygoing voice makes Lightning a sympathetic character, even when he's being kind of a jerk to the simple townsfolk he's forced to hang out with en route to the big race. Cars is probably Pixar's most underrated movie, but it deserves more credit than it gets as a nostalgic tribute to the old days of the American road and Route 66. It's the movie's brilliant voice work that really sells it, and Owen fits perfectly into a voice cast composed of amazing veteran actors like Paul Newman, Tony Shaloub, Michael Keaton, and um… Larry the Cable Guy.
3. Wedding Crashers (2005)
Wedding Crashers paired Wilson with Vince Vaughn in the story of two buddies who get their jollies crashing weddings and picking up bridesmaids for one night stands. While Vince killed with rambling comedic monologues, Owen held down the romantic end by wooing the lovely Rachel McAdams. The movie's a fresh, gleefully R-rated, sex crazed romp and one of the funniest movies of the millennium so far. It even holds up on repeat viewings, and it works because of Vince and Owen's great on screen buddy chemistry. Crass jokes and exposed cleavage mix with a subversively sweet romance between Wilson and McAdams to make Wedding Crashers an incredible comedy.
2. The Life Aquatic with Steve Zissou (2004)
The Life Aquatic cast Owen Wilson as a guy who is probably the son of mentally unhinged oceanographer Steve Zissou, played by Bill Murray. The pair meet for the first time, bond over a beach full of electric jellyfish, and soon Ned joins the Zissou crew, changing his name to Kingsley Zissou, as his probably father would have intended had he known Ned existed. The chemistry between Murray and Wilson is a brilliant mix of awkward and surreal, with the pair sort of sidestepping pressing father and son issues in favor of discussing jackwhales and sucker punching. As for the movie, like everything Owen Wilson does with Wes Anderson, it's inexplicably addictive.
1. The Royal Tenenbaums (2001)
For The Royal Tenenbaums, Owen Wilson traded in a big role in front of the camera for a bigger one behind it. It's one of several films he co-wrote with his friend and collaborator Wes Anderson, and it's also their best. The film tells the story of a dysfunctional family of geniuses, who break apart and then come back together. Like everything Anderson does, Tenenbaums mixes the surreal and the smart together in a story that's both heartwarming and weird. In front of the camera, Owen takes on the part of a more ancillary character playing a troublemaking outsider named Eli Cash, who worms his way into the Tenenbaum family and wreaks havoc. The script is genius, and for it Owen and Wes were nominated for an Academy Award. Both he and Wes are at their best when they're working together, and The Royal Tenenbuams is a perfect example of just how good they can be as collaborators.
Swipe to scroll horizontally
This poll is no longer available.
Your Daily Blend of Entertainment News