Paramount Turning Agatha Christie Into An Action Hero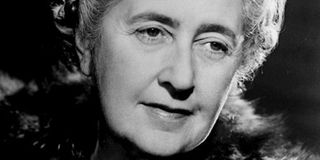 Paramount Studios is going full speed ahead with Agatha, which will have Agatha Christie as its protagonist. And it sounds as though the legendary British author will be performing the sort of antics usually reserved for action heroes in the film.
Deadline has confirmed that Agatha is currently being re-written by Annie Neal, who previously scripted Beauty Queen - a selection on 2013's Black List (the annually released list of the most popular unproduced screenplays in Hollywood). Paramount originally purchased the spec script for Agatha, which had been scribed by Allison Schroeder, all the way back in March 2013. But they're clearly not 100% happy with what Schroeder has produced, as Neal has now been brought on to shore things up. The production is currently trying to find a director suitable for the project.
Agatha will revolve around the 11 days when Agatha Christie went missing, while the spec script has been described as Sherlock Holmes meets Romancing The Stone, placing firmly in the action-adventure genre. Agatha Christie's disappearance back in December 1926 caused huge outcry amongst the public. The novelist, whose canon of work includes the likes of The Murder Of Roger Ackroyd, And Then There Were None and The Mousetrap, left her home on the night of December 3, 1926 after she quarreled with her husband, Archibald Christie. Archie had asked her for a divorce that night.
The evening she left her home in south England, she also left her secretary a note that explained she was going to north England. However her car was later found not far from her home, by a lake - with an expired drivers license and clothes inside. This led to a huge outcry from the general public as they pined for her safe return. Then, 10 days later, she was found at the Swan Hydropathic Hotel in Harrogate, Yorkshire, where she had been registered as Mrs. Teresa Neele from Cape Town, South Africa.
This was only after the front page of The New York Times had covered her disappearance, while 15,000 volunteers and a thousand police officers also scoured the nearby land and area to track down the writer. Sir Arthur Conan Doyle, who created Sherlock Holmes, even hired a medium and gave him one of Christie's gloves to try and aid the investigation.
The intrigue over Agatha Christie's disappearance increased after her return when two doctors diagnosed her with amnesia, and she insisted that she had no recollection of the events of the past 11 days. Christie never divulged the reason why she was missing for so long, but it's widely assumed that her husband's infidelity, her increased depression from constantly writing and her mother's death earlier that year had led to this mini-breakdown.
Some members of the public insisted that it was all actually a publicity stunt or even an attempt to frame her husband for murder. Archie and Agatha eventually divorced in 1928.
There's certainly plenty of scope and intrigue to make Agatha a worthwhile watch. Plus a hoard of actresses will be lining up to play Christie, as she was always strong, intelligent and charismatic, while the added tension and complexity of her breakdown will give the selected thespian more complexity to portray. Plus it's a period piece, and all actors love playing dress up.