Parks And Rec's Jean Ralphio Sells Romantic Comedy To Universal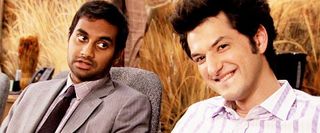 Entertainment 720 in the hizzouse! Parks and Rec fans rejoice because the man who plays everyone's favorite trendsetter supreme, Jean Ralphio, has just sold a pitch to Universal Pictures. Deadline reports the studio has committed to produce No Hearts Club, a romantic comedy which is to be penned by Ben Schwartz. While details on the plot are on lockdown, it seems Universal has high hopes for No Hearts as they've lined up some serious talent behind the scenes, securing Imagine Entertainment's heavy-hitter Brian Grazer to produce in conjunction with executive producer Kim Roth (Tower Heist).
While Schwartz has been winning fans with his go-for-broke performances on Parks and Recreation and Showtime's House of Lies, he has been slyly scoring buzz in Hollywood for his sharp comedy scripting skills. His screenplay El Fuego Caliente, a remake of the outlandish 1991 satire Soapdish), scored a coveted spot on the 2011 Black List—which boasts the best, unproduced screenplays of the year. This soap opera-centered romp has since been snatched up by Paramount, which has spurred other studios to open up to Schwartz's distinct and daring brand of humor.
You can get a taste of Schwartz's unconventional comedy stylings below in the College Humor sketch Porn Rental. He not only penned this demented vid, but co-stars opposite Dexter's Michael C. Hall. Warning: definitely NSFW:
It's hard to imagine that his rom-com will be as in-your-face or politically incorrect as what you see above. But with the plot under wraps, it's hard to imagine much of anything about No Hearts Club. But until we hear more, Schwartz's involvement will serve as an encouraging sign for this mysterious romantic comedy.
If you can't get enough of Schwartz's sense of humor, check out his blog, Rejected Jokes.
Your Daily Blend of Entertainment News
Staff writer at CinemaBlend.