Patrick Dempsey Puts On A Bridesmaid Dress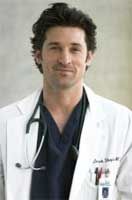 'Grey's Anatomy' star Patrick Dempsey is cashing in on his status as heartthrob McCutie or McCuddly or whatever they're calling him (Sorry, even after cancer I still have one testicle. I'm not watching.), and doing a romantic comedy.
Variety says he has a pay or play deal with Columbia Pictures to star in a rom-com called Made of Honor. No, it's not a sequel to Maid in Manhattan. Just note the spelling difference. The as of yet directorless film is about a guy (Dempsey) asked to emasculate himself by the girl of his dreams. She wants him to be her maid of honor. Guys, is there anything worse than being stuck in "friend" mode? Dempsey's character does what any of us would do in that situation. He accepts in the slim hope that he can use that time to get close to her and win her over. We men are really pretty pathetic.
Dempsey's already knee deep in using his television celebrity to launch a film career. Early next year he's set to appear in a teacher-student movie with Hilary Swank called Freedom Writers, and he's just finished filming the family fantasy musical Enchanted with Amy Adams and James Marsden. Can he sing??
Your Daily Blend of Entertainment News
Thank you for signing up to CinemaBlend. You will receive a verification email shortly.
There was a problem. Please refresh the page and try again.