Paul Blart: Mall Cop 2 Banned From Russian Movie Theaters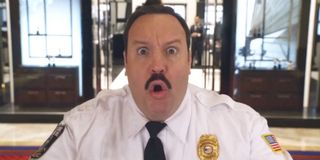 In an ideal world, something like Paul Blart: Mall Cop 2 would be banned from all theaters in every country. But Russia beat us all to the punch. It was announced on Wednesday that the sequel to the poorly rated Kevin James comedy, which was also poorly received, will not open in Russian theaters as originally planned. And there's not really a reason why.
Walt Disney Studios Sony Pictures Releasing CIS, which is a distribution company for Sony and Disney's offerings for post-Soviet countries, including Russia, would not elaborate on the decision when questioned by The Hollywood Reporter. Instead, the only statement released in an official capacity revealed that the decision was made by the main office. Furthermore, the U.S. office for Sony Pictures would not comment on the matter. All we know is that the sequel has been banned from Russian theaters, originally pegged for release on July 2, and will go straight to a DVD and Blu-ray release.
So why would a film like this be shut down? Could Paul Blart 2 in some way disgrace the country or offer a poor interpretation of its history? Or perhaps the movie is just so bad that the studio felt Paul Blart 2 would work better as a home release? Whatever the reason, it is more perplexing considering the first installment was released in Russia in 2009 and grossed $276,246.
Paul Blart 2 marks the third major theatrical release to be banned from theaters in Russia. Mortdecai, starring Johnny Depp, Gwyneth Paltrow, Ewan McGregor, Paul Bettany and Olivia Munn, was postponed indefinitely after initially given a March release. Then there was Daniel Espinosa's Child 44 with Tom Hardy, Gary Oldman, Noomi Rapace and Joel Kinnaman. The culture ministry said that the film "distorted historical facts" and offered "peculiar renditions" of WWII and the Soviets during that era. It seems odd that Paul Blart 2 falls into this same cluster of films, though there could be any number of reasons as to why that is. The fact that no one from the studio is willing to address it seems more peculiar.
Paul Blart 2 returns Kevin James to his comedic role as the life-saving mall security guard. Now six years after he saved the day in the first film, he's supposedly getting some time off to relax. In earning an all-expenses-paid trip to a Las Vegas-based security convention, he heads on over there with his daughter, Maya (Raini Rodriguez). Unfortunately, he has to spring back into action when he discovers a threat to the hotel. The film opened in U.S. theaters on April 17 to deplorable reviews. It's currently wallowing in a murky 6% on Rotten Tomatoes.
Your Daily Blend of Entertainment News